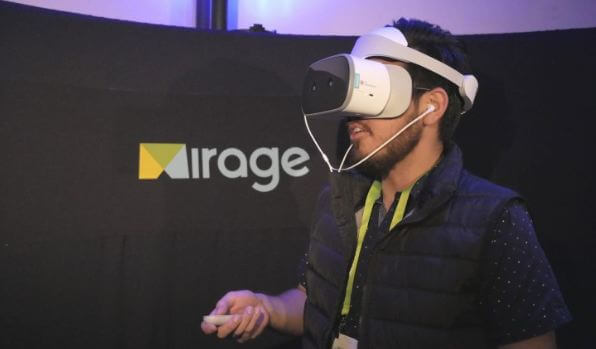 As we had earlier informed you of its announcement at CES, we are back to tell you that Lenovo Mirage Solo- the standalone Daydream VR headset from the Chinese giant is now up for sale in the US. Priced at $399, the headset competes with the likes of Oculus's Rift and HTC's Vive. The gadget will be available only from Lenovo's online store and will start shipping in the next 4-5 weeks.
If you had missed the details earlier, the Mirage solo runs on Snapdragon 835 VR platform, has 4 GB of RAM and 64 GB internal storage onboard. Having a 110-degree field view with 1280 x 1440 pixels per eye and an impressive 7 hours of battery life, the headset guarantees an uninterrupted and immersive experience. As an additional perk, as Mirage Solo is built on Daydream platform, it has access to its full suite of more than 250 applications including YouTube, Street View, and more.
If you can't wait for 4-5 weeks, Lenovo is also offering another unique gadget- Mirage Camera that is the first VR180 camera in the consumer segment. As you would expect from a VR camera, it captures super wide angle pictures with enhanced depth and overall 3D features. With two 13MP shooters onboard, it can also capture 4K videos at 30fps- all of which can be stored locally in its 16GB storage, further expandable through microSD.
To make the camera work independently from smartphones, it also packs a 2-2-inch touch display to watch all the local pictures and videos, even stream YouTube on Wi-Fi or LTE connection. But you prefer watching them on a larger screen; there are companion apps for both iOS and Android to stream the captured media. With a Type-C port for charging and media transfer there is little that this camera leaves to be desired. Available now at Lenovo's online store, this can be yours for $299.