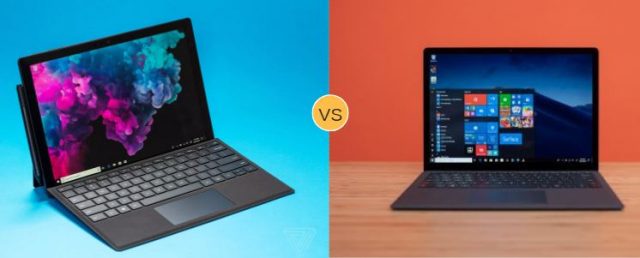 Microsoft just updated both its laptop and tablet segment with new devices- Surface Laptop 2 and Surface Pro 6. Individually, both of them are amazing devices with intuitive design and beastly performance. But for a consumer, the question isn't if those devices are good but which one of them is better? Let's have a look on the Surface Laptop 2 vs. Surface Pro 6 comparison.
As you might know, Surface Pro 6 is a tablet- albeit with a detachable keyboard, and Surface Laptop 2 is, well, a traditional clamshell laptop. The problem is, Surface Pro 6 defies the general wisdom of a tablet being less performant than a laptop. In fact, if you compare the raw specs of these devices, you would be surprised to see them stand toe-to-toe. Here is quick rundown:
| | | |
| --- | --- | --- |
| Specs | Surface Laptop 2 | Surface Pro 6 |
| Display | 13.5-inch (2256 x 1504) | 12.3-inch (2736 x 1824) |
| Processor | Intel 8th Gen Core i5/i7 | Intel 8th Gen Core i5/i7 |
| Memory | 8/16GB | 8/16GB |
| Storage | 128/256/512/1024 GB | 128/256/512/1024 GB |
| Size | 12.1 x 8.8 x 0.6 inches | 11.5 x 7.9 x 0.3 inches |
| Weight | 1.2 Kg | 0.7 Kg |
| Price | $999 | $899 |

The similarities
The base model of both the devices ship with an i5 processor with 8GB RAM and 128GB SSD storage- which can be upgraded up to an i7 processor with 16GB RAM and 1TB storage. The base model of Surface Pro 6 costs $100 more than that of Surface Laptop 2- more on this later. Owing to the same hardware configuration, both the devices deliver almost the same level of performance. At around 9 hours of battery life, they are similar in this regard as well. The Surface Pro 6, however, has a MicroSD card slot- something you might critical or useless depending on your needs.
As you can see, both the devices have almost the same configuration under the hood which makes it a really tough choice. So see the merits of each one of them separately.
Surface Pro 6- The portable beast
The Surface Pro 6 weighing just 0.7 Kg would make a perfect device for those who move around a lot- like students or design professionals. The convenience of touch and use of stylus makes it particularly appealing for note-taking or drawing. Also, the detachable keyboard comes handy when you need to work on some documents or just play games. There is one caveat worth mentioning here- it might seem to many that the portability of Surface Pro 6 comes at an additional cost of $100. But that's not true. The tablet ships without the detachable keyboard that costs $129. So the real price difference between the two devices is actually $229-something you might want to consider.
Surface Laptop 2- The classic powerhouse
At just 1.2 Kg, Surface Laptop 2 is as light and sleek as any notebook with a full-size keyboard. The device is particularly suited for professionals who need their device mostly for documentation and presentations and remain consistently on the move.
Closing remarks
Both the devices are perfectly fine in their own domains and so while deciding your purchase it's not the merits of these devices that you should consider but how you intend to use them.