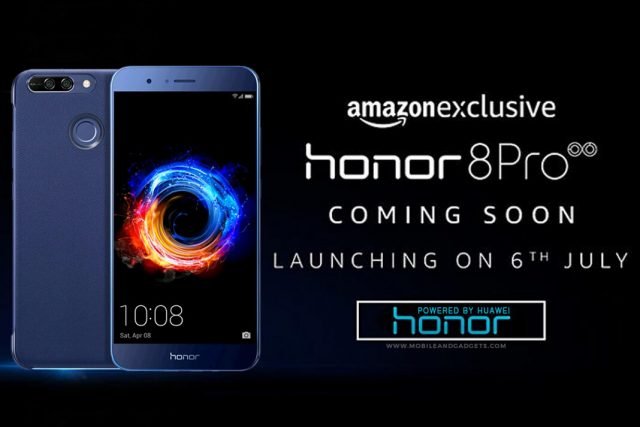 Will this launch worry One Plus 5? Back to back, two major releases by the leading smartphone brands in India – One Plus and Huawei Terminal sub-brand Honor. The new Honor's Pro flagship phone will be here with an official launch on July 6.
Honor 8 Pro will be an Amazon exclusive device in India, and we all have to wait for the brand to reveal its price on Amazon.com. Launched in Europe earlier this year, we're familiar with the top-of-the-line specs and brilliant looks of this Huawei masterpiece.
Design: Honor 8 has a funky, contemporary design enclosed in a glass and metal chassis, sporting a 5.7-inch Quad HD 2K display. This luxury smartphone will be available in two striking colors of Navy Blue and Midnight Black. Remarkably accomplished phone coming from a globally acclaimed brand, Huawei Honor.
Features: Well. If you ask us, there's plenty of usability features to offer by this novel creation. As soon as the buzz spread over media about the release of Honor 8, we couldn't wait to check out its powers. Some of the Europeans who recently bought it delightfully bragged about the key specifications- dual-lens setup with two 12-megapixel rear cameras, an 8 RGB sensor for color and monochrome sensor for details, with the newest Android Nougat (7.0).
This dual sim work of genius comes with the latest 1.8 GHz octa-core processor, with the options of 6 GB RAM and 64 GB storage. Having a huge battery of 4000mAh compared to OnePlus 5 3,300 mAh, Honor 8 Pro matches with its own HiSilicon Kirin 960 processor, which is 6 GB RAM and 128 GB storage. A bigger battery pack will offer an advantage for sure, while the performance may depend on several other factors of storage and processor.
But yes, Huawei's Honor 8 Pro is expected to be a tough competitor to OnePlus 5 in India. They share a lot of feature sin common still exists few touting silver-line differences, which will definitely make a difference in user's preference and choice for the quirkiest smartphone. iPhone 7 is one more, solid contender in the race.
Certainly, if Honor 8 Pro will be under Rs. 30,000, it will witness a voluminous sale in India. When you get some excellent features comparable to OnePlus 5 which starts with Rs. 32,999, we believe, former is the winner in user's hands.
We're waiting to see that incredible handset in Amazon's list. Fingers crossed for the prices for the next flagship from Huawei Honor 8.