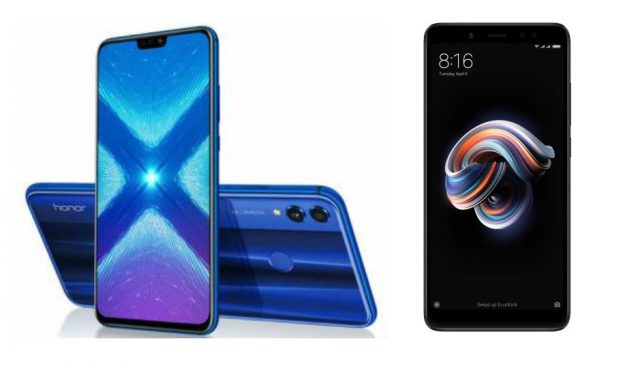 Xiaomi Redmi Note 5 Pro, after its launch, was widely acclaimed to be the king of budget smartphones and easily sprung to the top of any "top smartphones list". But now that it is over six months old, the competition is finally starting to catch up and latest launch from Huawei- its Honor 8X seems to be pretty close to beating the device. Let's try a detailed comparison:
Honor 8X vs Redmi Note 5 Pro: Design
Available in Blue and Red colors with textured back and big notched display at the front, Honor 8X is, by all means, a beautiful device. Redmi Note 5 Pro, on the other hand, has that same old unibody design with thick bezels- something that's started to look boring. This an area where Honor 8X wins hands down.
See Also: Redmi Note 5 Pro vs Redmi 6 Pro
Honor 8X vs Redmi Note 5 Pro: Spec showdown
| | | |
| --- | --- | --- |
| Specs | Honor 8X | Redmi Note 5 Pro |
| Display | 6.5-inch (1080 x 2340 pixels) | 5.99-inch (1080 x 2160 pixels) |
| Processor | HiSilicon Kirin 710 | Snapdragon 636 |
| Memory | 4GB | 4GB |
| Storage | 64GB | 64GB |
| Rear camera | 20MP + 2MP | 12MP + 5MP |
| Front camera | 16MP | 20MP |
| Battery | 37mAh | 4000 mAh |
| Price | 14,999 | 14,999 |
If you look at the core specs, both the phones stand toe-to-toe. Both them use a mid-range processor- one from Huawei and another from Qualcomm, have the same memory and storage, and almost the same battery. The difference, however, lies in display and camera.
Honor 8X has a slightly larger display with marginally better resolution, that would compensate to offer the same PPI. Comparing the cameras of two devices, however, remains a bit tricky. If we go purely by pixel count, Honor 8X would seem to have a better rear camera while Redmi Note 5 Pro would have a better front camera. But we know for a fact that MPs don't really mean much. In fact, arguably the best smartphone camera is currently that of Pixel 3- which is just 12.2MP. While Redmi Note 5 Pro has proved itself to be a decent shooter in real-world performance, Honor 8X still has to pass that test. So it might be a while before we can conclude which of these devices has a better camera.
See More: Asus ZenFone Max Pro M1 vs Xiaomi Redmi Note 5 Pro
Honor 8X vs Redmi Note 5 Pro: Closing remarks
At the same price point, Honor 8X definitely offers a better design and display than Redmi Note 5 Pro while the rest of the specs remains the same. So now it seems, we finally have a new king of budget devices