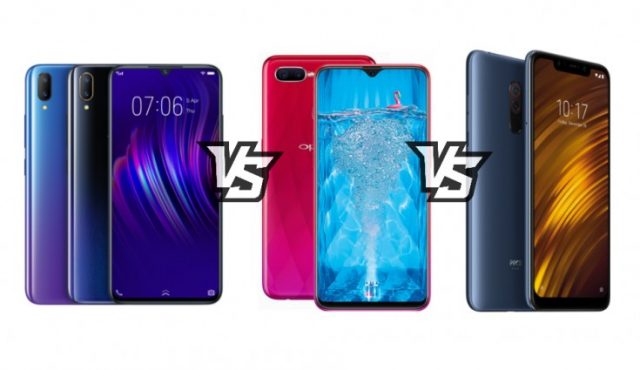 The Indian smartphone market has been swamped with Chinese smartphone makers with brands like Xiaomi, Huawei, Vivo, Oppo, and OnePlus captured the majority of the market, specifically in low and mid-range segments. And while Xiaomi- now the largest player in the Indian market has virtually won the battle of the low-end market, the competition is now heating up for the mid-range supremacy. We earlier compared two of such phones- Oppo F9 vs Honor Play, but now we'll also bring two other players- Xiaomi and Vivo in the race.
Of each of their key mid-range phones- Vivo V11 Pro vs Oppo F9 Pro vs Pocofone F1, let's see which is the most worthy of your choice:
Vivo V11 Pro vs Oppo F9 Pro vs Xiaomi Poco F1: Design
All the phones come with a notched-display though their sizes vary. Vivo V11 Pro has got the smallest notch- something it calls Waterdrop notch, Oppo has slightly bigger central notch while Pocofone has the largest of them all.
Aesthetically, Vivo V11 Pro has a refreshing gradient design that comes in various hues and colors. You won't spot a fingerprint sensor as it is placed below the screen. Oppo F9 Pro too has a glass body that looks premium by all regards where has Poco F1 comes with a polycarbonate body- something Lumia or Motorola phones used to have in the old days.
Now there are two camps when it comes to deciding which one's better. You can either think that glass bodies are beautiful and an added gradient of colors makes them even better. Or you can say that glass bodies are brittle and smudge-magnet and if you use cover to protect it, there is no sense of those beautiful colors.
In any case, we are here not talking about durability and in a strict design sense, Vivo V11 Pro is a clear winner.
Winner: Vivo V11 Pro
Vivo V11 Pro vs Oppo F9 Pro vs Pocofone F1: Display
Poco F1, with a 6.18-inch display, has the smallest screen among the three. Then it's Oppo F9 Pro with a 6.3-inch display and Corning Gorilla Glass 6 protection. Vivo V11 Pro has the largest display with a size of 6.4-inches. All the three displays have basically the same resolution but the added protection of Gorilla Glass 6 in Oppo F9 Pro gives it an edge.
Winner: Oppo F9 Pro
Vivo V11 Pro vs Oppo F9 Pro vs Pocofone F1: Camera
All the three phones come with dual-camera at the back with ViVo and Poco opting for a 12MP+5MP setup while Oppo has a 16+2MP setup. All of them have beautify and AI features inbuilt and it essentially comes down to how much AI interference do you like. Overall, none of them have an exceptionally good camera that you can boast about but all of them would take pretty good shots for your daily needs.
Winner: none
Vivo V11 Pro vs Oppo F9 Pro vs Pocofone F1: Hardware
Now, this is an area where Poco F1 pulls the ace out its sleeves. In terms of storage, all the phones come in the same variant- 6GB+64GB or 6GB+128GB. Vivo V11 Pro is powered by Snapdragon 660- the latest mid-range chipset from Qualcomm while Oppo relies on MT6771 Helio P60- a mid-range chipset from MediaTek. Poco F1, on the other hand, deploys the latest Snapdragon 845- the same chipset that virtually all the Android flagships use.
Winner: Poco F1
Vivo V11 Pro vs Oppo F9 Pro vs Pocofone F1: Price
Vivo V11 Pro starts at Rs. 25,990 while the base model of Oppo F9 Pro comes with a price tag of Rs. 23, 990. The cheapest of the three, Poco F1 starts at Rs. 20, 999.
Vivo V11 Pro vs Oppo F9 Pro vs Pocofone F1: Verdict
If simply want a good looking phone, go for Oppo F9 Pro. If you want your good looking phone to have reasonable performance, get yourself a Vivo V11 Pro. but if you want a durable phone with top-notch performance, Poco F1 should be your best choice.