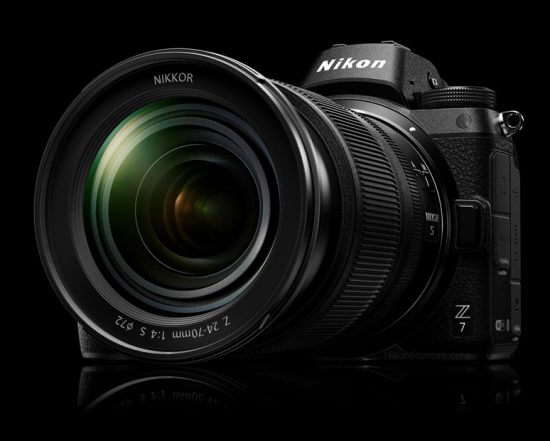 Nikon, being one of the top camera makers in the world always creates a hype around not just its catalog but also what it's going to introduce next. For those Nikon fans looking to have an idea of Nikon's future release plans, check out Nikon upcoming cameras:
Nikon upcoming DSLR 2018 List
Nikon upcoming DSLR-Nikon D650
Nikon D650 is also upcoming Nikon DSLR that is an entry level camera. Its name would be Nikon 650. In October 2013, Nikon had announced that its upcoming camera, Nikon D650 will be launched soon with 24MP FX sensor and advance core specification compared to its predecessor. It is expected that it would be featured with of Hybrid sensor and 4K video.
Nikon upcoming DSLR-Nikon Z7
This is Nikon's latest attempt at making its mark in the new and flooring mirrorless camera segment where Sony has been dominating for the large part. It is a top-tier camera with a Z-mount with support via adapter to its full range of older F-mount lenses as well.  At 55-millimeter mount width and 16mm flange distance, Nikon's upcoming Z7 camera isn't as compact as mirrorless cameras are expected to be but it's nonetheless much more portable than DSLRs of its category.
With a 3.69 million-dot OLED electronic viewfinder with 100 percent frame coverage and 0.8x magnification, 3.2-inch LCD with 170° viewing angle, 4K video capabilities, and a weather sealed body, these are one of the finest shooters you'd find in the market. Having 24-70mm lens, it has 493 focus points, shoots continuously at 9fps, and has a base ISO of 64. The camera will set you back by around $4,000 and will be available starting 27 September.
Nikon upcoming DSLR-Nikon Z6
Having much of the same specs, design, and built-quality as Z7, Nikon's upcoming Z6 mirrorless camera can be considered a scaled down version of its top offering. Where the camera differs from Z7 include its continuous shooting capability of 12fps, a higher ISO of 100, and only 273 focus points- which the company claims cover the same area as Z7. The camera will be made publicly available alongside Z7 and costs at around $3K.
Nikon upcoming DSLR-Nikon D760
This upcoming DSLR from Nikon would replace its earlier model D750. This means for high-end buyers, Nikon isn't coming out with a new mirrorless camera but is also holding its ground in the DSLR segment. While much of the details aren't available at this point, (lakes)I could not understand this word have confirmed that it would have Bluetooth and Wi-Fi installed and has been already tested at 2.4 GHz / 5 GHz in China but only at 2.4 GHz in Taiwan. Additionally, the camera is also said to feature EN-EL 15a battery.
Nikon upcoming DSLR-Nikon D5S
This upcoming camera from Nikon has been in the rumor-mill for quite a while now. It was highly anticipated to be launched at CES this year, then at Photokina, but both the events have passed and thus these are expected to be unveiled at CES 2019, which is set to take place in January. Unfortunately, in terms of specs, we haven't much to share at this point but we promise to keep you posted as new leaks pour in.