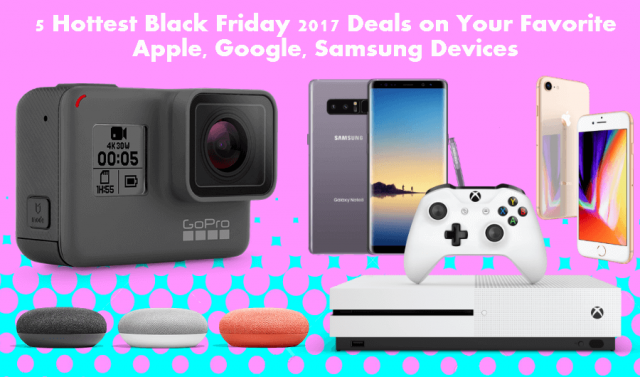 We've recently had a sneak peek on BlackFriday.com and got these amazing Target deals that leaked last week, on your favorite, high-end smart devices like Google, Apple, Samsung. Some of the deals that we've handpicked will surely make it the best-ever Black Friday shopping spree for you. So, here you go.
Google Home Mini+ $10 Target Gift Card for $29 (you save $20)
Woho! Seriously. It's just awesome. The most-loved hands-free smart speaker for your home, office and anywhere you want is now available at a super-saving price $29 with a free $10 Target gift card to buy anything and everything you like from the store. This price for Google Home Mini is a solid discount any day. Don't wait more to add this piece to your most modern tech collection.
Free $250 Gift Card with Apple iPhone 8 or iPhone 8 Plus with activation
This is a superb real Black Friday deal for iPhone 8 and iPhone 8 plus. If you've been waiting for the Christmas deals to buy the latest, new-generation iPhone, then the wait is over. Grab this deal at Target and receive a free $250 gift card after you get the iPhone 8 activated.
Free $300 Gift Card with Samsung Galaxy Note 8, Galaxy S8 or S8 Plus with activation
Finally, we can see some discounts coming on the premium Samsung devices. Samsung has been a more liberal than Apple Inc this year, for all its enthusiasts. It's $50 more that you're earning here. If you want to boost up your Android kit, get the Galaxy S8. It's smarter than any of the phones you've owned until now. And this deal makes it the biggest purchase of the year.
GoPro Hero 5 Black for $349 + $50 Target Gift Card (you save $50)
Indeed, a star deal for the shutterbugs. You can now buy your Hero5 Black camera at a rock-bottom price of $349, which will save you $100 from what's the list price. In fact, $5 more than what Amazon is offering now. A gift card of $50 from Target is cheery on the cake.
Xbox One S 500 GB Console+$25 Gift Card is $189.99 (you save $90)
Target runs it every year on Black Friday and this time, it's a sugary surprise for the gaming buffs. Xbox One S 500 GB that's available at a deal price of $246 at Amazon is available to you at just $189 as an early-Black Friday deal. Plus, you receive a $25 gift card, which will help you save $90 in total. This is just the hottest deal.
So, get ready to save the big dollars while you shop at Target Corp. There are hundreds of more greater deals for you. Grab them as early as it's black Friday. The offers are open for the whole month starting from now. You'll be the luckiest as Target decides to ship everything for free this season.