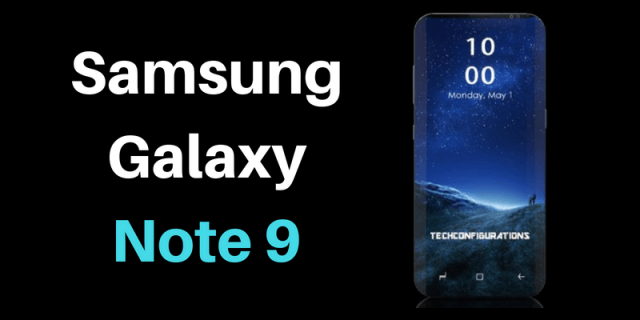 Samsung's Galaxy S-series battles toe to toe with iPhones and Pixels- winning on some fronts and at the same timelosing on other ones, but the company always reserves an ace up its sleeves- a device that doesn't directly competes with them but undercuts them. It's Samsung Galaxy Note 8- a niche device specifically marketed to professionals and comes with that good old stylus. Though the device is, by all means, a flagship, you would rarely see it being compared to others- partly because it has a class of its own and partly because it flies under the radar.
If you have been keeping track of this device, you must have come across rumors- some plausible, some wishful, and some outright outlandish. Let's try and see the reason to that:
As much as we would like to see, Note 9 won't have a foldable display, certainly. Yes, you heard it right, Samsung has been working on the tech for years and large form-factor of Note-series makes it a worthy contender, but it's just too big a platform for a totally new, untested tech. Remember those exploding Note 7? There is no way the company is going forward with an outlandish experiment on its cash cow.
There have also been rumors of Galaxy Note 9 having an on-screen fingerprint sensor. The same reports did rounds before the launch of Galaxy S9 as well. And though other manufacturers like Vivo and Huawei have come out with such features, there is a bleak chance of Samsung adopting it due to one key reason- security. Unless it is secure enough for mobile payments like Samsung Pay or Google Pay, we would have to settle for the fingerprint sensor on the back.
The phone definitely is going to have a dual-camera at the back but there are also rumors of dual sensors at the front as well. Given the device has traditionally been endowed with the best optics Samsung has to offer, it is more likely to be true.
See More: Samsung Galaxy S10 codenamed 'Beyond' tipped for a January 2019 launch
About the most controversial element- notch, opinions are divided. The company has filed two patents of the design- one with a notch, another without it. No, there won't be variants. The clue lies in past behaviors. Even after almost all the flagships dropped the 3.5mm jack, you can still find in both Galaxy S9 and Galaxy Note 8. As recent leaks suggest, Pixel 3 is adopting the notch as well and that further gives Samsung a reason to avoid it- an opportunity to be different.
You May Like it: Samsung Galaxy A6 and A6+ Introduced, Details Inside
There isn't much to talk about pure hardware specs here as it certainly will pack the latest chipset- Snapdragon 845, incremental memory- 8GB RAM, and large storage- 256GB. There were earlier leaks that the device may have a whopping 512GB storage but that seems to be distant dream, even for Samsung.
Launch date
There have been plenty of rumors regarding Note 9 getting an early release but that seems less plausible when you think about it. If we get back to our analogy, an ace is useful only when it is played at the correct point. With Note-series, that is a major problem for Samsung. Because it is a parallel, and in some sense even superior, to its flagship S-series, they can't be launched together.
That is why it traditionally gets a separate launch event in August. As Apple updates its iPhone lineup in September, getting any closer would be suicide both in terms of sales as well as marketing. But they can't also pull up the launch dates or they would risk cannibalizing their own sales of S-series, launched earlier in March.
So the most Samsung can do is release the device in early August and start taking pre-orders or even shipping, before the latest iPhone hits the shelves. Expect it around the first or second week of August.
Price
Contrary to what the wave of low-end phones may make you dream, phones aren't getting any cheaper- clearly evident from the fact that each successive flagship from all phone manufacturers comes with a bigger price tag. Now if previous trends are of any indication, the $950 price tag of Note 8 leads us to believe that Note 9 is definitely going past that $1000 ceiling.