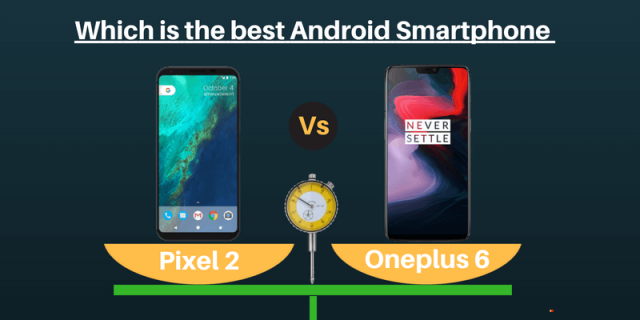 In post, we are going to expose which the best android phone: Google Pixel 2 vs Oneplus 6. We have discussed a lot about OnePlus 6 mainly because it's a device worth the attention and because we like its bottom line- top features at half the price. Well, not exactly half (it used to be when initially launched but the price has consistently crept up), but is still one of the best value-for-money purchases. On the other hand, we also love the new entrant in Android flagship battle that is offered by Google, through its Pixel lineup.
Now here is an interesting deal- the latest OnePlus 6 comes with a price tag of $529 which is at arm's length from our another favorite flagship Pixel 2 priced at $649. So if that $120 gap isn't a big deal for you, let's see which of these devices better deserve your money. Have a look on the competition of Pixel 2 vs OnePlus 6 – which is the best?
See Related: OnePlus 6 vs Honor 10: Which One is the Best
Design And Form-Factor
Both the devices are quite iterative in terms of design and aren't winning any awards. Yes, they both look good with their aluminum body and glass back (partially in Pixel 2 case) but there is nothing to brag about. There is, however, one notable design factor you would notice immediately- the notch. Pixel 2 has significantly large bezels on the top and bottom while OnePlus 6 comes with a full-screen display with a notch at the top.
As for the form-factor, OnePlus 6 is an enormous device, one of largest on the market with its 6.28-inch screen. Pixel 2 on the other hand, is a compact device, one of the smallest in the flagship segment with its 5-inch display. Depending on which side you lean, each of them can be said to be arguably better than the other.
Camera
OnePlus 6 comes with a 16MP+20MP dual-camera at the back while Pixel 2 has a single 12MP sensor. And to the surprise of many, Pixel 2 still takes the lead. It's not that OnePlus 6 has a bad camera- it takes stunningly good pictures, but it's due to the fact that Pixel 2 offers one of the best cameras in the market and beating the best remains a tough job even for the flagship killer.
Performance
This is where OnePlus 6 clearly outmatches Pixel 2 by a long margin. It comes with the latest Snapdragon 845 SoC while Pixel 2 is still powered by last year's Snapdragon 835 SoC, lagging by as much as 30% on most benchmarks. But as it was in the case of the camera, Pixel 2 isn't slow, it would easily glide through all the regular tasks and games but OnePlus 6 simply packs a more powerful punch. It also has a significantly larger battery but the backup again is quite simpler due to Pixel 2's smaller display and under the hood optimizations.
Special Features
Pixel 2 is waterproof with IP67 certification. For OnePlus 6, though the company claims it can better resist water than its previous versions, the lack of IP certification means you shouldn't take their word for it.
OnePlus 6 retains the good old headphone jack while you would have to use an adapter to use your 3.5mm headphone with Pixel 2.
Both the devices run Android Oreo out of the box and are also one of the select few to get the latest Android P beta. But Google's weight behind Pixel 2 means that it would get the earliest updates for its entire lifecycle that no other company can match, not even OnePlus.
The Verdict
So which one is the best? As you would have guessed by now, there is no absolute winner and the choice largely depends on what you expect from your phone. While camera and waterproofing are the key benefits of Pixel 2, OnePlus 6 brings higher performance and larger display. Depending on which set of features appeal to you the most, you must choose to spend that extra $120 or can save it.