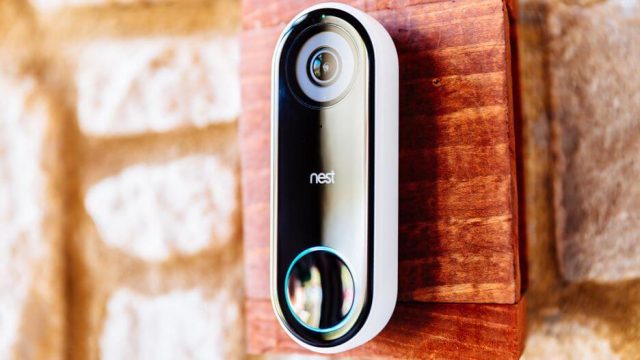 You are cozily tucked in your bed and then the doorbell rings. Who is that? There is only one way to find out- walk up to the door and peep through the peephole. And if you don't have a peephole, you can only find out by opening the door. But what if it's someone you don't want to let in? A burglar? A salesman? A stalking lover? Would you feel safe opening the door without knowing who is on the other side? Well, you won't have to if you use any of these smart doorbells:
August Doorbell Cam Pro
One of the best smart doorbells currently in the market, August Doorbell Cam Pro comes with virtually all the features you'd expect from a smart doorbell. For starters, it has an inbuilt camera that continuously records videos at 1280×960p, (you'll have to pay $5/month for storage). Available in silver and dark grey colors, the doorbell is hardwired to your door and has a 120-degree field of view. The videos from the doorbell can be live-streamed from any of the corresponding mobile or web apps. It is also one of the cheapest of the lot with a price tag of $199.
See More: Make Your Doors' Deadbolt Smarter with August Smart Lock
Ring Video Doorbell Pro
At $249 asking price, this the third generation of Ring Video Doorbell and comes with some quite handy features. Along with every feature of August Doorbell (subscription is lower at $3/month), it also supports night vision and the ability to customize tracker. This way, you can prioritize which areas to monitor for enhanced security while its greater 160-degree view also offers a wider field of view. At just 1.9-inch width, it is also quite compact to be hardwired on most doors.
SkyBell HD Wi-Fi Video
If you are looking for a smart doorbell for which you don't have to pay monthly subscriptions, SKyBell would keep you satisfied. Equipped with all the same features including video recording, push notifications, two-way talking, and more, the key highlight of this device remains its free of cost video storage. On the downside, some people may not find its design to be aesthetically appealing. But at $199 price tag, it still remains a reasonably good deal.
Read More: Samsung Introduces First IoT-enabled Smart Door Lock
Olive & Dove RemoBell
If you don't like the hassles of hardwiring and want something portable, Olive & Dove RomeBell is one of the best options. Running on six A4 batteries, it is equipped with an inbuilt camera for HD recordings. But that's almost it. There is no other compelling feature for its asking price of $199. So, unless portability is on the top of your list, we suggest you pick any other doorbell from the list.
Nest Hello
A subsidiary of Alphabet, Nest has been operating in the smart-home segment for quite a while and is best known for its smart thermostat. Nest Hello is a neat little doorbell that comes in black and white color and would fit on most of the door frames. It's relatively easy to install by first downloading the companion app for Android or iOS and then following the step-by-step procedure. One of the key highlights of this doorbell is that it is equipped with facial recognition system along with motion and activity detector. With the similar features like other doorbells mentioned above, one possible drawback is that offers only 3 hours of image history for free and you will have to subscribe to a $3/month for recordings. Priced at $229, this should be your ideal purchase if you are looking for something sleek.