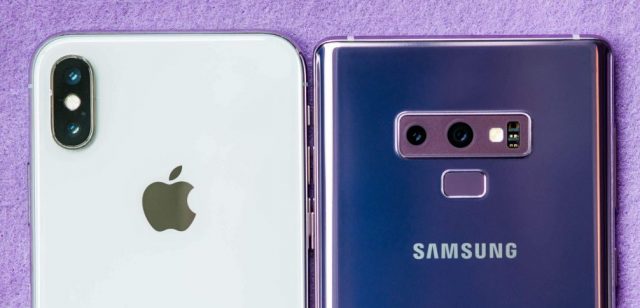 Before Apple releases its new device next week, iPhone X is still the top offering from Apple and Galaxy Note 9 from Samsung is perhaps the flag bearer from Android's side. Let's pitch them against each other and see which one comes out on the top:
iPhone X vs Galaxy Note 9 – Design
This is one aspect where iPhone X beats all other phones hands down owing its refreshing design- something that has even become quite controversial. But Galaxy Note 9 too has a special trick up its sleeves- the stylus. Like notch in iPhone X, the stylus too has its set of hardcore fans and critics but the point remains that both these phones bring something unique.
See More: Redmi Note 5 Pro vs Redmi 6 Pro
iPhone X vs Galaxy Note 9 – Performance
We have reached such a stage that it isn't even worth comparing the performance of flagships. There isn't a single application or game that these devices won't glide through without breaking a sweat. You, of course, get down to comparing their chipsets- A11 vs Snapdragon 845 but raw benchmark scores don't really represent real-world performance. They both are fast, period.
See Another: Honor Play vs Oppo F9 Pro
iPhone X vs Galaxy Note 9 – Dual Camera
Now, this is something interesting. iPhone X is now almost a year old and in the meanwhile Android market has been flushed with dual-camera phones. Even $100 phones now have them but its true competitor Pixel 2 still runs a single camera. The closest competition it has is from Galaxy Note 9's dual camera (we don't count Huawei). So let's see how they stack up against other:
In terms of pixel count, cameras on both these phones are exactly the same- 12MP+12MP. The Galaxy Note 9 borrows its camera from Galaxy S9- which received partially better rating than iPhone X from DX o Mark and applied some screen optimization. Both the camera also has the same set of features including slow motion recording, optical image stabilization, among others.
Which is the best: OnePlus 6 vs Honor 10
But they have a few notable differences as well that pop up in the final results. Galaxy Note 9 for instance, uses a dual aperture- that lets in more light, and thus is able to create better low-light photos. It also has pro-mode that lets users tweak all the detailed settings to take the best possible pictures- but this might overwhelm casual users.
iPhone X, on the other hand, applies optimization in the background to create more refined images. The effect of their approach- screen optimization vs. background optimization appears when you take your photos outside your phone- i.e on a laptop or a paper. While pictures look equally impressive on their devices, pictures of iPhone X look much better on other screens.
For videos, both the phones are again almost on a tie. Both of them can shoot 4K videos, can shoot slow-motion videos (Galaxy Note 9 even has a super motion mode), and bring out quite impressive clips. You might find the videos from iPhone X to be a bit smoother or the videos of Galaxy Note 9 a bit corrected, but that's such minute details that no one even notices.
The key aspect here is that the iPhone X is a year old device- with its successor set to launch the next week, but still manages to match or even beat a newer Galaxy Note 9.
iPhone X vs Galaxy Note 9 – Price
The base model of both the devices has the exact same price tag- $999. The top model of iPhone X with 256GB storage costs $1,149 while the top variant of Galaxy Note 9 with 512GB storage costs $1,250. So if you are on the Android team, go ahead and get yourself a Galaxy Note 9 and we promise you won't be disappointed. For those of Apple devotees, we highly recommend to wait a week for the new iPhone X. We've heard it might have a triple camera- which if true, will definitely put it way ahead of the competition.