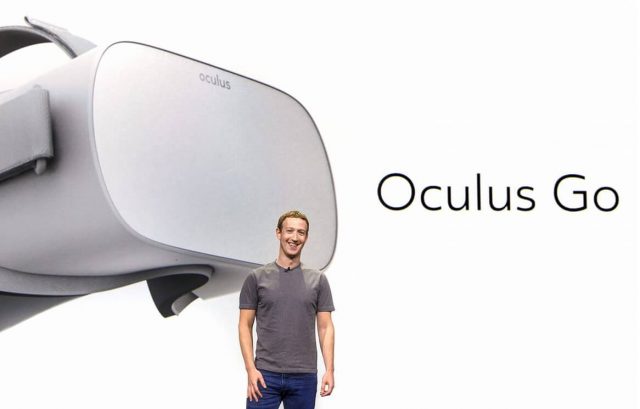 Facebook has taken the mystery covers off its all-in-one standalone virtual reality headset at Oculus Connect 4 yesterday. The headset is aimed for all, which is quite evident with the price that the new VR headset will have.
Earlier, the only pocket-friendly VR headsets were Google Cardboard or the Samsung Gear VR, which asked you to slide your smartphone into the frame for virtual spaces to appear. Which was certainly not an amazing particularly at the prices they on offer. The Samsung Gear VR along with its controller cost you around $129.
On the other end and notably the brighter one, there is Oculus Go, which is a fully standalone 'all-in-one' VR device. This means that there is no need to hook up the device to your PC as in case of Oculus Rift or to a smartphone as in case of Gear VR for taking a leap forward into an imaginary yet wonderful virtual world.
At the launch event, Facebook's CEO Mark Zuckerberg claimed that he'd like to put one billion people in VR- there is no better way to accomplishing the goal than offering a VR device at a reasonable price. Oh boy, this will be a reality soon.
Oculus Go features
Oculus Go features rotational-only tracking (3DOF) on both the headset and the controller, has integrated audio, built-in speakers and 3.5 mm jack supporting high-end headphones. The built-in speakers enable users to hear the virtual world without putting on a separate pair of headphones.
There is a fast-switch LCD boasting 2560×1440 resolution and next-gen lenses, which are better than the ones used for the Oculus Rift with a wide field view and reduced glare. Also, the headset comes with cross-platform capabilities. There is a remote controller which can track your motions.
Oculus Go price
The company has priced it at $199. So, gear yourself up to buy this amazing and affordable headset as soon as it is out in the wild.
Oculus Go release date
The virtual reality headset will be available for grab by early 2018 while its developer version will be released anywhere around November this year.