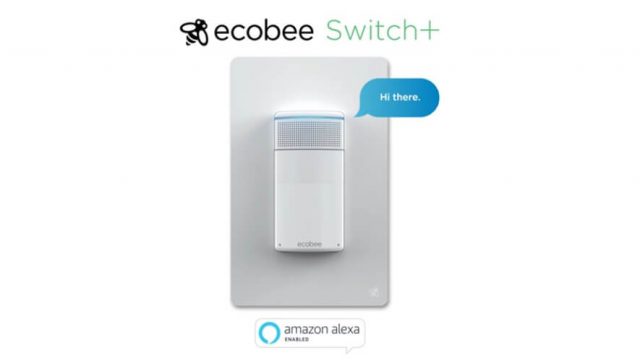 Alexa is undoubtedly leading the home automation race that aims to create fully connected homes- from doors to thermostats and security cameras to light bulbs. But the future, however, doesn't lie in putting Alexa-powered Echo speakers in every room to control home devices but just the opposite- putting Alexa in every home gadget. That is precisely what Ecobee is up to.
Known as the maker of one of the best-connected thermostats, Echobee has now a new connected device to offer- Switch+. Yes, the one you fix on walls to switch lights on or off. Apart from this it does much more. It is one of the smartest switches you would ever want to own.
For starters, the installation of Switch+ is very simple and you aren't likely to face any troubles if you have ever installed an outlet before. For its part, Switch+ is fully integrated with voice assistants like Alexa, Siri, and Google Assistant and can be voice-controlled via its HomeKit. The gadget also has a microphone and speaker built-in, which technically can be used to listen to music from Amazon music and Pandora (no Spotify yet) but we wouldn't suggest so because the sound quality is more suited for voice audio. So apart from your digital assistant's response, you can consider it for listening to podcasts and audiobooks.
Related: Amazon Echo vs Google Home
Now coming to functionality, the most basic feature is, you can, of course, control your light fixtures using the Echobee app or if you forget, it also has motion sensor built-in to control it for you. The ambient light sensor means it can detect light conditions in the environment switch on/off lights accordingly (including sunset and sunrise). If you have a nightlight, it will automatically turn it off after 15 minutes unless it detects some motion. No, the smart switch can't, for now, dim the lights. Also, if you have multiple Alexa-powered devices in your room, you need not worry because it supports Echo Spatial Perception (ESP)- that lets you talk to any one particular device without triggering them all at once.
Overall, though the device can't be said to be perfect, it still is a very good start. Especially if in coming days, the company pushes for tighter integration among different gadgets. For now, the $99.99 price tag does seem a bit steep but is worth it if you wish to reckon an automated home.
Related: McAfee Enables Alexa to Secure Your Wi-Fi through Voice Commands