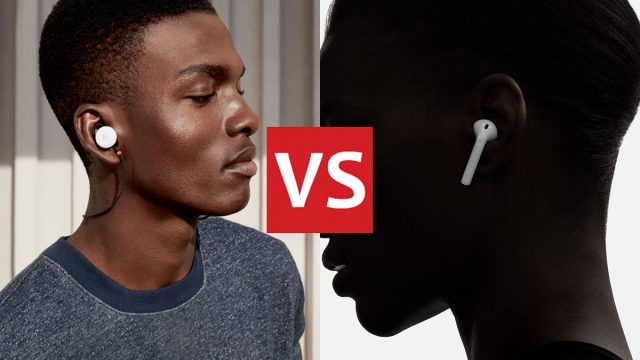 AirPods and Pixel buds are by no means the finest of earphones or have any unique features but they carry a distinctive aura owing their origin at the house of Apple and Google respectively. So while audiophiles would flock to Sennheiser and Bose headphones, the geeks would naturally go for AirPods and Pixel Buds. But then the key question remains- which one of them is better? Let's find out:
AirPods vs Pixel Buds: Design
When AirPods was initially launched, its design inspired countless memes and remained the butt of jokes for quite a while. The obvious complaint was the repetitive design and that it was too prone to be lost or misplaced. But as initial dust settled and people started using it, its design proved to be a lot more convenient than anticipated. At this point, AirPods are widely accepted to be well-designed and its charging case has earned many compliments as well.
Pixel Buds took a cue from the initial criticism of AirPods and added a cord to keep both buds intact are thus are quite easier to handle. Its design too has its critics but it has generally fared well among masses.
AirPods vs Pixel Buds: Performance
As mentioned earlier, there is nothing exceptional about the sound quality of these earphones but they aren't so bad either for anyone to regret. As for their comparison goes, they have almost similar soundstage and deliver overall the same performance. The battery lives of both the earphones are too similar at around 5 hours on a single charge and around 24 hours using the charging case.
AirPods vs Pixel Buds: Features
Individually, both of these earbuds have similar features but a lot depends on which device you are using it with. For instance, both of them are compatible with digital assistants- Siri on AirPods with iPhone and Google Assistant on Pixel Bud with Android phones. So if you indeed to use AirPods with Android devices or Pixel Buds with iPhones don't expect much.
There are also other features like auto music pause of AirPods or the taps of Pixel Buds but that's something you can't compare. One key advantage of Pixel Buds is its real-time translation capabilities but given that it has still to receive a wider rollout, it's currently more of a gimmick than a true feature.
AirPods vs Pixel Buds: Price
At this point, both AirPods and Pixel Buds retail at the same price- $160 but it is worth noting that AirPods are almost 2 years old Pixel Buds are closing in on the first anniversary. This means they both would soon be upgraded.
AirPods vs Pixel Buds: Verdict
Overall, both these earphones stand toe-tope in almost all aspects and despite their cross-platform support, are suited for different ecosystems. That is, when you decide to buy one of them, the smart question isn't which one of them is better but rather which phone you have? If you are an iPhone user, AirPods would be the ideal purchase for you but for Android users, Pixel Buds should remain the preferred choice.