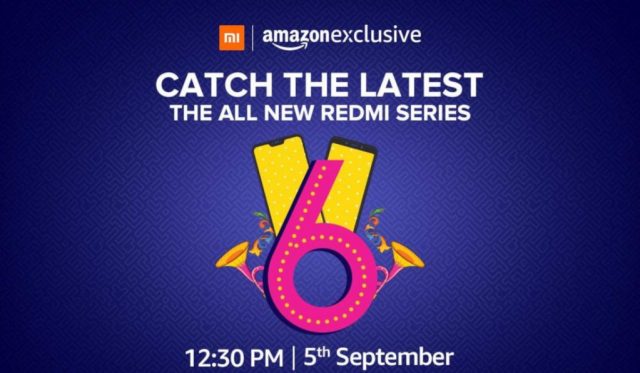 Last week Xiaomi- Indias's largest smartphone vendor confirmed the release date of its upcoming Redmi-series on September 5. The phone this time is going to have three variants- Redmi 6, Redmi 6 Pro, and Redmi 6A.
We got it! #DeshKeNayeSmartphones arriving on 5th September. Stay tuned. pic.twitter.com/dB0EMYuSdR

— Redmi India (@RedmiIndia) September 1, 2018
Redmi 6 remains the standard edition of the low-cost series, Redmi 6A a toned down version, and Redmi 6 Pro seems to be an upgrade. Of the three phones in the teaser banner, one has a notched display, which we believe is going to be the Pro version. The company has also teased one notable feature of the upcoming phones- dual-VoLTE support. While other specs haven't yet been revealed, we expect the phone to be running on Snapdragon 400-series chipset with memory variants ranging from 2GB+16GB to 4GB+64GB.
See More: Xiaomi Redmi 6 Pro Introduced with 5.84-inch FHD+ 19:9 display
Now one day before the scheduled launch, Amazon has announced that the phone going to exclusively available on its platform. And it shouldn't come as a surprise because if you look at the top selling phones on Amazon, you would find a majority of them to be Xiaomi handsets- a strong reason for Amazon to pursue such partnership. But interestingly, contrary to three phones on Redmi's teaser banner, the Amazon's banner has only two phones- one with notch and one without it. So as it seems, only two phones- possibly Redmi 6 and Redmi 6 Pro are going to be Amazon exclusive. The third, Redmi 6A would find its way to other platforms including Flipkart as well. Given that Flipkart has long been an exclusive partner of Xiaomi, the company it seems isn't yet ready to ditch that relation.