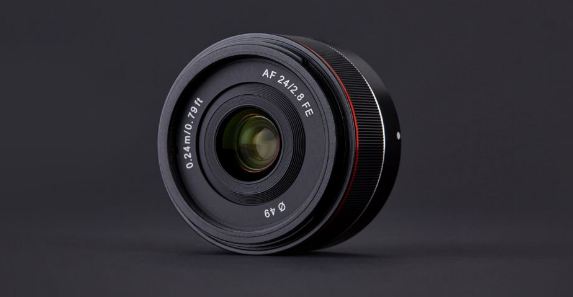 One of the core problems with mirrorless cameras as compared to DSLRs lies not within themselves but within their deficiency to support ecosystem. If you own DSLRs, you will have trouble choosing one from a large number of possible options. If you own a mirrorless camera, you may have trouble finding options at all. Now if you own one of Sony's full-frame mirrorless cameras like Alpha-series, which by the way is our top pick for mirrorless cameras, you have got a new option when out to buy a lens.
Offered by Samyang and tag-lined tiny but wide, the 24mm f/2.8 FE wide-angle optic weights just 93 grams. The merely 37mm long lens has up to 7 design elements, that truly justifies its tagline.
The company claims the lens comes with an ultra-multi-coating that delivers more accurate colors by minimizing chromatic aberration and unnecessary light dispersions the lens consists of two high-refractive lenses coupled with three aspherical lenses.
If you are out to buy one, you will find it selling under Rekinon brand for $399 in the US starting July. The details for other markets is yet to be confirmed. Given the company has only recently started expanding its autofocus lens catalog, we would be waiting to see if the spec sheet does convert into comparable real-world performance.