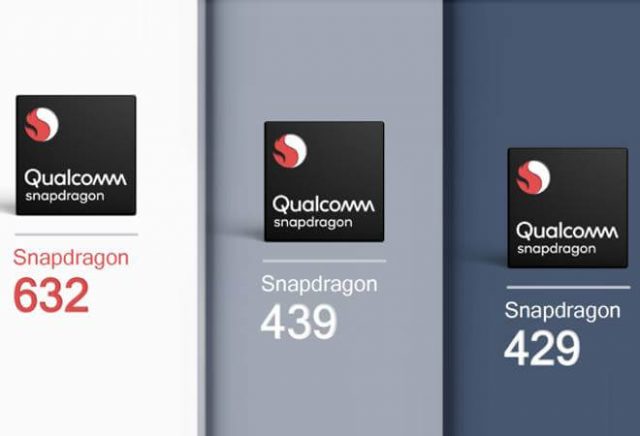 Almost one out of every two smartphones is today powered by Qualcomm's chipsets. If you don't already know, the company builds three classes of SoCs, the 400-series for budget phones, the 600-series for mid-range phones, and the 800-series for the premium phones- the one you would find on most flagships. While the top-tier processor had already been released earlier this year, the company has now unveiled three new offerings for the mid and lower segment. Let's take a detailed look at each of them:
Snapdragon 632
It is the successor to the previous 626 SoC platform and promises 40% performance improvement. Like its predecessor, it is a 14-nm chip that promises quite good efficiency as well. The chipset comes with an octa-core CPU with 8 Kryo 250 cores paired with Adreno 506 GPU. The Snapdragon 632 supports Full HD+ display resolution, up to a  24 MP rear camera or dual camera- each with a 13 MP sensor. It is now also capable of recording 4K videos- a feature which until now was available only on top-tier chipsets. There are also improvements in modem support for faster cellular speeds and carrier aggregation.
Snapdragon 439
It is the successor to the previous 430 SoC and one of the biggest improvements remains that is built on the 12 nm FinFET process, which promises drastic improvement in its performance and efficiency- 25% as claimed by Qualcomm. This low-end chipset now also supports Full HD+ display, single rear camera up to 21 MP or dual camera with 8 MP sensors each. It has an octa-core CPU with four each of performance and efficiency cores- coupled with Adreno 505 GPU for up to 20% better graphics performance.
Snapdragon 429
This is the chipset one is expecting to see in the most affordable smartphones, in coming days. The chipset, built on the 12nm FinFET process, has a quad-core CPU coupled with Adreno 504 GPU promising to deliver up to 25% improved performance and 50% graphics rendering than the 425 SoC is succeeds.
Conclusion
Overall, the chips bring considerable upgrades over their previous platforms and we can expect them to be powering smartphones in coming months.