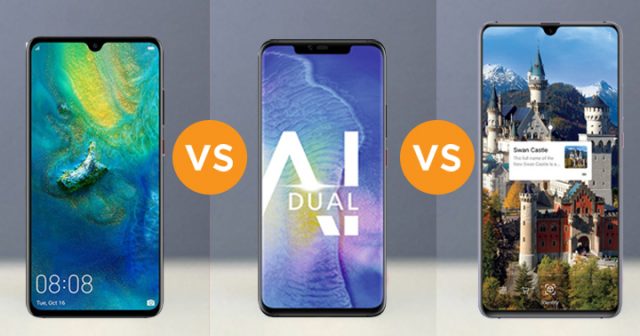 With the launch of its P-series and Mate-series devices, the Chinese juggernaut Huawei has finally claimed its spot on the high table of the smartphone industry. No matter who you ask, its latest Mate 20 would definitely be counted among the best smartphones for 2019. But as is the trend these days, the device comes in three variants- the regular Mate 20, a lite version, and a pro model. so when we say Huawei Mate 20 is among the best devices you can buy, the obvious question remains- which model? to answer that question, let's compare between Huawei Mate 20 Lite vs Mate 20 vs Mate 20 Pro the three devices to try and find out which one's the best suited for you:
Design
All the three devices carry a common design ethos like camera at the center with fingerprint scanner below it but with a few subtle differences. For instance, the Mate 20 Lite has an aluminum body while those of Mate 20 and Mate 20 Pro come with a glass body.
Another noticeable difference is the design and size of their notch. The Mate 20 Lite and Mate 20 Pro have a rectangular wide notch with a slight variance in size- Lite's being a bit smaller. The Mate 20 on the other hand, has a waterdrop notch.
Hardware
This is the segment that truly distinguishes all three devices. We'll here chart out the key differences followed by their specs sheet for you to have a comprehensive idea. So let's start with the display. The Mate 20 Lite comes with an LTPS IPS while Mate 20 has an IPS display. If you don't know what those mean, the bottom line remains that Mate 20's display is marginally better than Mate 20 Lite's. Trumping the both, Mate 20 Pro features an AMOLED display of highest resolution among the three.
In terms of processing power, all the three devices come with Huawei's homegrown Kirin line of chipsets. While Mate 20 Lite runs on the mid-range Kirin 710 SoC, the other two phones feature the top-end Kirin 980 SoC, which is also claimed to be 5G-ready.
Other noticeable differences include Bluetooth 4.2 on Mate 20 Lite and Bluetooth 5.0 on the other two devices. The Mate 20 Lite has a Battery of 3750mAh capacity while its 4000mAh and 4200mAh for Mate 20 and Mate 20 Pro respectively.
 Spec showdown
| | | | |
| --- | --- | --- | --- |
| Specs | Mate 20 Lite | Mate 20 | Mate 20 Pro |
| Display | 6.3-inch (1080 x 2340 pixels) | 6.53-inch (1080 x 2244 pixels) | 6.39-inch (1440 x 3120 pixels) |
| Processor | Kirin 710 | Kirin 980 | Kirin 980 |
| Memory | 4/6GB | 4/6GB | 6/8GB |
| Storage | 64GB | 128GB | 128/256GB |
| Rear camera | 20MP + 2MP | 12MP +16MP+ 8MP | 40MP +20MP+ 8MP |
| Front camera | 24MP+2MP | 24MP | 24MP |
| Battery | 3750mAh | 4000 mAh | 4200mAh |
Camera
This is again something you would find major differences among all the three devices. As you can see from the specs above, Mate 20 Lite has a decent dual camera. The Mate 20 takes it up a notch to feature triple-lens camera- which is widely reviewed to be excellent. The Mate 20 Pro, however, comes with one of the best smartphone cameras currently available on the market.
Price and verdict
Given as the differences, it is obvious that Mate 20 Lite is a mid-range device while the other two are flagships and their price tag reaffirms that notion. At Euros 300 (INR 24,000), Mate 20 Lite is a decent purchase if you are an average user who doesn't play many heavy games or clicks many pictures. For the heavy users, Mate 20, with its price tag of Euros 640 (INR 51,000) ticks all the right boxes. But if you are out on the market for the ultimate smartphone that excels in all segment, get a Mate 20 Pro if you are okay with its asking price of Euro 880 (INR 71,000).