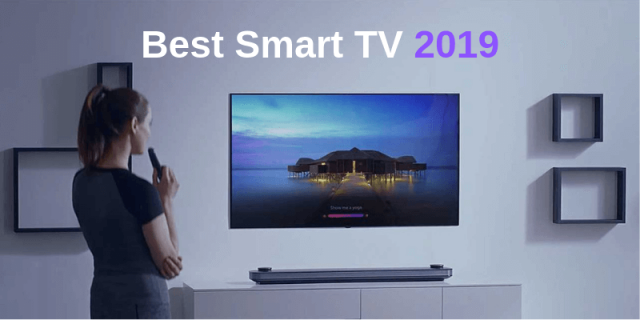 Television, until recently looked more or less like they looked during the 80s or 90s. But in the last couple of years, they have had immense transformation paving the way for ultra-thin smart TVs we have grown accustomed to today. In fact, we are still in the first month of 2019 but there have been enough new launches to suspect we might already have the best TV for 2019 among us. In light of recently concluded CES 2019 where all top brands unveiled their finest of televisions, here are the best Smart TV 2019.
LG OLED 65R
Launched recently at CES 2019, LG OLED 65R can easily be termed a landmark in television design. Yes, we have seen foldable displays in the past but this particular television takes the execution to an entirely new level. The way its 65-inch display rises and disappears in the aluminum-finish cabinet seems to a concept borrowed straight from science fiction. And it's not that LG has made some kind of tradeoff with picture and built quality for this wow-factor. The product isn't a prototype but a market-ready commodity that would see a commercial launch anytime in 2019.
The cabinet that conceals the display also doubles down to host a 4.2ch 100W Surround Sound system which by the way is Dolby Atoms capable. And as a cherry on top, the display can also be partially retracted to work as a display for news, weather, music playback, or simply as an ambient photo frame. The company is yet to put a price tag on this masterpiece be assured that it wouldn't come cheap.
Sony ZG9 8K 85-INCH LED LCD TV
The 8K televisions made debut last year and Samsung's first 8K TV is already on sale but the ZG9 from Sony offers much more. To start with, the 85-inch (there is also a 98-inch version) wafer-thin display isn't just enormous in size but also excellent in quality. It is built upon an 8K enhanced full array Backlit Master Driver comprising of ultra-dense LED modules. Plus each of the modules is independently controlled that results in exceptionally high contrast and brightness.
Though there is still no original 8K content, the Sony ZG9 uses an AI rendering engine that enhances 4K content to almost the same level as 8K. in terms of Audio, Sony has introduced a new sound system called Acoustic Multi Audio that comprise of 4 speakers- 2 at the top and 2 at the bottom and locks audio to the picture area. Once launched, Sony has promised to push a firmware update to make it Dolby Atoms capable as well.
Panasonic GZ2000 65-INCH OLED TV
If you looking to get a feature-packed television NOW, this is the one you should opt for. Panasonic GZ2000 is the first OLED TV to support HDR 10+ and Dolby Atoms out-of-the-box. The custom-designed OLED panel delivers majestic picture quality that the company attributes to its better heat-management technologies. Powered by an intelligent HCX PRO processor, the TV is excellent at handling motions.
For sound, it comes with an integrated Technics soundbar for an expanded front soundstage while there are also up-firing speakers at the back to deliver the Atmos height. Overall, there isn't much, if at all, to complain about this television.
Samsung's 2019 QLED TV
The company hasn't yet confirmed its name or the possible variants but offered a quick look at its new 4K QLED TV expected to launch sometime in 2019. The TV is dubbed to be a major improvement over its previous version in black level performance and off-axis viewing. The company also claims to have drastically improved the brightness level and if all those are true, we have a can expect a television with that ticks all the right boxes.
Phillips OLED 804
Some call it annoying while it seems aesthetic design to others but what can't be denied is that the light show poured by the back and edges of Phillips OLED 804 gives it a distinct look. Beyond that, this television delivers all you would expect best televisions of 2019. It's got support for HDR 10+, Dolby Atoms, all those smart TV features, and excellent picture and sound quality.