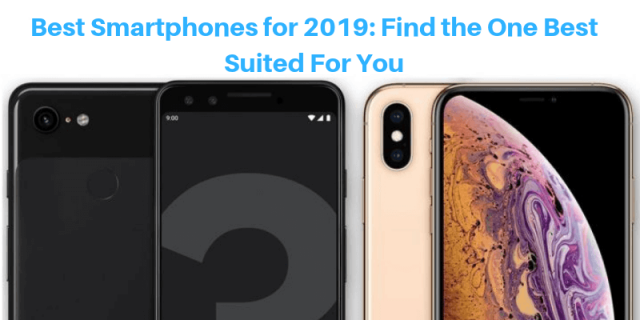 The state current smartphone industry is overwhelming, to say the least. With dozens of flagships vying for your attention, it's often tough to zero-in on a device that would be best for you. After all, virtually all of them carry the same specs sheet and deliver excellent performance. To help you in that case, here are the best smartphones for 2019 along with who they are best suited for:
Pixel 3/Plus
Pixel 3 (and Plus) is currently the best smartphone on the market. From the house of Google, the device is hailed to feature the best camera ever on a smartphone and also the finest of Android experience. At $799, Pixel 3 is a true flagship that though might look decent on paper with its single rear camera and only 4GB of RAM, but is quite polished to deliver excellent performance. With Plus version, you'd get a larger screen with a notch but all the other specs remain the same.
Huawei Mate 20 Pro
Launched late year, Mate 20 Pro is one of the flagships of Chinese giant Huawei that features excellent design and top-of-the-self components. One of the key highlights of the device remains its next-gen Chipset- Kirin 970 that promises significant improvements over its predecessors. Along with hardcore performance and catchy design, Mate 20 Pro also offers all many on-the-top features like 3D facial unlock, in-screen fingerprint sensor, reverse wireless charging, to name a few. Overall, if you are looking for a powerful beast with an extensive set of features, Mate 20 Pro would be a perfect purchase. The only shortfall of the device can be attributed to its custom EMUI skin- but that's purely a matter of preferences. Also, you might struggle to find it in certain western markets like the US.
Galaxy S9/Plus
Through Samsung is often accused to have lost its innovative edge in the last few years, its latest flagship- Galaxy S9 and S9 Plus are still one of the best devices you can buy. It's got the same iconic design, is waterproof and excels at virtually everything you'd want to do with it. With top-end Snapdragon processor and one of the finest cameras, Galaxy S9 and S9 Plus would be an ideal purchase you are looking for a reliable phone with excellent service.
iPhone XS/Max
As it with every new generation of iPhones, iPhones XS and iPhone Max are claimed to be the finest smartphone Apple has ever made. Through the design may seem repetitive to some users, the phone more than compensates for it through a clean interface and exceptionally good customer support. Plus, you are looking for an iOS device, this is the best one you have got given you are looking to spend over a thousand USDs.
Galaxy Note 9
The Note-series from Samsung carries a class of its own owing to the iconic stylus that comes with it. Featuring the finest of hardware, camera, and a ton of extra features, this large screen device is perfectly suited for business users who tend to use their phones for work a lot. At $999, it's also the most expensive phone from Samsung, on-par with iPhone XS but we can tell you that it's totally worth it.
Huawei P20 Pro
Through Huawei P20 Pro is now almost a year old, this device to first feature three rear cameras is still an ideal purchase for power users and those who click a lot of pictures. Plus, as P30 launch nears, you might find the device at discounted rates that would make it an absolute steal.
OnePlus 6T
Once dubbed as the flagship killer, OnePlus has slowly made its way to claim a spot among the top flagships. Especially popular among the enthusiasts, its known to deliver the best hardware packed inside fresh design. Plus, if you like to customize your phone a lot, you'd be pleased with this phone's flexibility. At $549, this is the perfect all-rounder that though isn't the best in any segment but won't disappoint you either.
Overall, all the above devices are exceptionally good phones and no matter which one you pick, you can't possibly be disappointed. But ultimately it depends on your preferences that would determine the best smartphone.