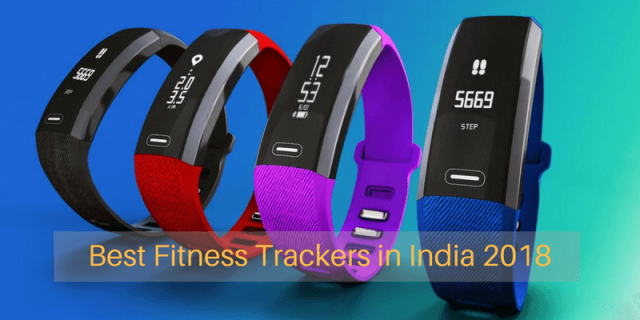 Its summer again- time to shed those extra kilos you put on during winter. Or maybe you have been wishing to get in shape for a while but are just too lazy to hit the gym. Well, maybe you don't have to or feel lazy about it- technology can help. Here we are going to discuss about the 5 best fitness trackers in India 2018.
Just take the stairs instead of the elevator for its equivalent to some aerobics you would otherwise do in a gym. And wouldn't you like your band to consistently tell you how well you are doing and how far you are from your daily fitness goals- just like a personal fitness trainer always on your side?  Well, there are many fitness trackers available that can do it for you and more. From counting steps and calories burnt to keeping track of your heart rate and sleep, all of the gadgets below are perfect for these tasks. Just pick the one that matches your style, after all, you also got to look cool,
Garmin Vivosport
Except for its small display (which is a matter of preference), this is the best fitness tracker currently available in the market. Along with the general set of sensors you'd expect like acceleration, barometer, among others, the device also comes with an inbuilt GPS and heart-rate monitor. Water-proof up to 50 meters of depth, you can also take it for swimming or walk into the shower- for every calorie burnt counts! At $149, the gadget though not on the cheaper side definitely delivers its value.
Fitbit Charge 2
It is impossible to talk about fitness trackers without mentioning Fitbit and its Charge 2 is the best gadget that it currently has to offer. The bright elegant screen on colorful rubber straps simply look amazing and are a delight to wear. At $129, the band offers a rich set of all those tracking activities plus a cardio Fitness Level that tells you how efficiently you process oxygen and even has a guide for breathing that is good for blood pressure and relaxation. There is just one problem- it doesn't have built-in GPS, which can be a deal-breaker if you intend using it for running or cycling.
Microsoft Band 2
If it wasn't for the lack of ecosystem and steep price, this band from Microsoft would have definitely made it to the top. Equipped with 11 sensors including Optical heart rate sensor, Gyrometer, GPS, Skin temperature sensor, UV sensor, Microphone, among others, this is almost on-par with a smartwatch in specs but with a sleek form-factor of a band. With a battery life of around 2 days, the band can measure all the stand activities and be used as an extension for all your smartphone notifications.
Nokia Steel HR
If wearing a fitness band is not your thing and you just want your watch to double up as your fitness tracker, Nokia Steel HR is made for you. The round dial with steel plating on the sides gives an elegant look to the otherwise average touchscreen that houses all the standard set of sensors beneath. Having an impressive built-quality, you can wear this in environments. The only thing you might miss is the absence of GPS and a few features like height and depth sensing.
Garmin Vivoactive 3
If you are looking for something more classic and do not mind spending premium bucks for it, Vivoactive 3 might just be the perfect tracker for you. First of all, it looks like a regular watch sporty-enough to wear in gym and classic-enough to go with formal outfits. On utility front, the touchscreen is quite responsive and it comes with a wide range of fitness tracking profiles- 15 to be more precise, meaning no matter the kind of activity you do, you are covered.
With a bunch of sensors similar to other gadgets, it comes with super accurate GPS and heart rate sensor and lasts for around 5 days on a single change. Now considering all features and that you essentially get 3-in-1 gadget (fitness band-cum-casual watch-cum-formal watch), the price tag of $249 doesn't seems that expensive after all.