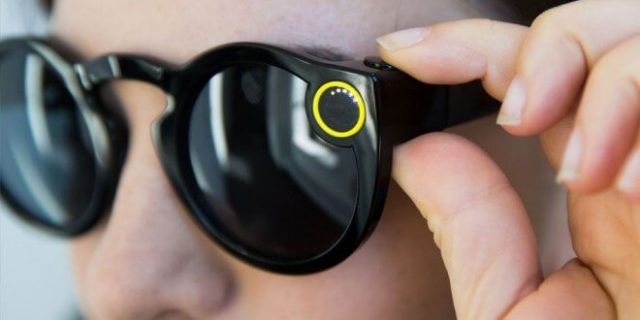 Do you remember Snap Spectacles that were initially launched in 2017? The one that made you look cool (or geeky?). Well, the short story is, even after receiving considerable hype and generating consumer interest, it wasn't at the end compelling enough to make them reach out to their wallets. The hype faded and we all moved on but, now as we know, Snap Inc. didn't.
The news is, the second generation of Snap Spectacles have just passed the FCC and may soon hit the market.  Officially as per the FCC listing, it is the model "002" of a device is called "wearable video camera" under the brand name "spectacles"- which leaves little doubt over what it really is.
The packaging label also reveals quite a few details. First of all, it is now branded as a "made for iPhone" spectacle- compatible from iPhone 5 to iPhoneX, as evident from the sticker. But given that there is also an Android icon below, it will as wellbe compatible with them . While there is no picture of the gadget available yet, the label also confirms supports for Wi-Fi and Bluetooth 4.2. It also has a 95mAh in-built battery but the actual performance can only be commented upon once it's released.
Set to launch in 2018 (no other specifics yet), you will get the Spectacles, a charging cable, and a charging case in the box.
There are also rumors doing the rounds that the company is already working on the 3rd generation to be launched in 2019. It is tipped to sport two cameras- one additional for depth, inbuilt GPS, and come with aluminum designed more circular frame in a leather case. And if that sounds premium, it's because it is and it may have a price tag of twice than its first version at around $300.