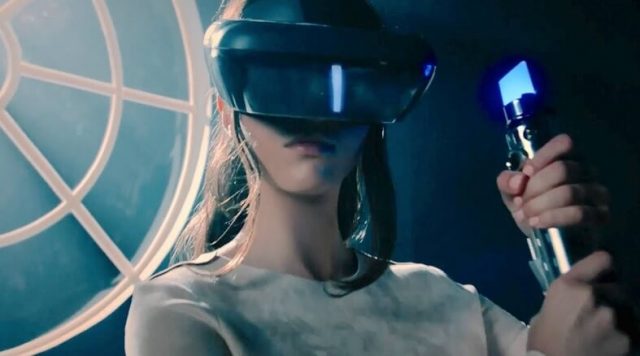 There is no denying that we all have imagined being a Jedi Knight from Star Wars and beat the hell out of the opposing powers, eventually coming on top by conquering the empire.
Lenovo is all set to turn a dream of many enthusiasts into a reality. The AR-enabled kit consisting of a lightsaber, a headset and a tracking beacon lets anyone become a rebelling rabble.
"Star Wars: The Last Jedi" is set to roll out in December later this year and ahead of its release Disney has joined hands with Lenovo to offer millions of enthusiasts an experience of their lives- packed inside a kit of desires, surely it'll be one for most of us.
A demonstration was presented by the company at IFA in Berlin where a 90-second version of the mesmerizing game was up for a try. Once the gear is strapped and the equipment gets connected to the smartphone app (supported phones include iPhones, Samsung devices, Google Pixel and the Moto Z), it all starts to roll similar to the magical world of Star Wars series.
A holographic version of Kylo Ren pops up where you need to use your lightsaber to defend the attack and while getting a chance hit back too. The lightsaber has haptic feedback sensors that vibrate when you try to block or strike an opponent.
The final version of the game will be longer than the demo and will enable the player to fight against Darth Vader and others from the dark side while commanding one of the fierce forces of the war.
This is the first time when Lenovo has shown off its developments from augmented reality to the world, which certainly looks expansive and desirable. The uncovered piece of tech gadget is called 'Lenovo Mirage AR headset'. It seems like the company is happy to release the headset for a single game at the moment. However, it won't be a surprise if we see more games released for the headset in the coming months.