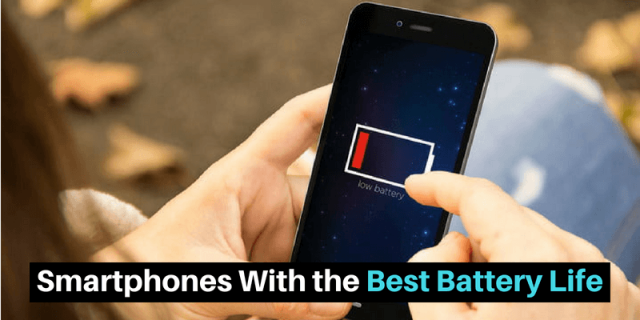 From morning alarms to late night podcast and all the calling, music, gaming, navigation and more in-between, smartphones remain the key to sustaining our daily lives. And though the processors have gone faster, screens larger, and cameras better over time, there has been limited improvement in battery technology. That is, the only way manufacturers can push battery life is either through optimization or by simply increasing their size.
Now if you are a heavy user and your current phone dies before you get home, here are some of the devices with best battery life that won't ever let you down:
See More: Upcoming Smartphones 2018 in India
Xiaomi Mi Max 2
Housing a massive battery of 5300mAh, Mi Max2 promises a whopping standby battery life of 31 days! The giant 6.44-inch screen with dual speakers makes it a perfect purchase for those who frequently use their device for gaming and video streaming. If that isn't enough, the phone is also quite affordable given its specs.
Samsung Galaxy A9 Pro
Probably the best from Samsung, Galaxy A9 Pro is built to keep all your tasks going throughout the day with its enormous 5000mAh battery. Coupled with 4GB of RAM, 64 GB storage, this mid-range phone is for those looking for impressive performance without having to carry around a charger.
See Related: 6 Best Camera Smartphones for Photography 2018
Gionee M7 Power
Gionee is known to deliver decent specs at an affordable price with the battery life being the outshining factor. And its M7 power definitely keeps that reputation with the 5000mAh battery. Though the device is powered by a low-end chipset- Snapdragon 435, the 6-inch inch screen and 4GB RAM make it an ideal purchase for those looking for a lasting phone.
Asus Zenfone Max Pro M1
This latest contender to being the mid-range king checks all the boxes users consider while purchasing a new Android device. Along with having best-in-class specs, and stock Android, the 5000mAH battery is where it actually not just matches but beats the competition.
Xiaomi Redmi Note 5 (and Pro)
Xiamoi's Redmi Note lineup has redefined the lower-segment market with its phones packing the mid-range specs. Having outstanding performance, camera, and screen for its price tag, the phone also doesn't cut any corners in battery segment with its 4100mAh capacity as well. Pegged to last for more than a day even under heavy usage, it can be said to a true all-rounder.
Huawei P20 Pro
The P20 Pro from Huawei is hailed to be one of the best smartphones in 2018, particularly due to its triple camera. One factor however that went largely unnoticed due to its glittering specs was its enormous 4000mAh battery. The battery life is further extended owing to many optimizations that the company has done under the hood. So, if you are in the high-end market, P20 Pro is one of the best deals you are going to get.
Google Pixel 2 XL
Though Pixel 2 XL slightly lags when it comes to raw specs with its 3,650mAh battery, Google's grip on both hardware and software has proved how optimization can easily help bridge that gap. Sporting all the top-end components under the hood with stock Android on the top, Pixel 2XL is for those no-nonsense users who want their phones to perform.
Moto Z2 Force
This phone from Motorola comes with just a 2730mAh battery. Then why is it on the list? Because it is a modular phone that comes with an additional battery pack of 3,490mAh capacity, giving you a total of around 6,000mAh to use. The phone is best suited for those who travel a lot and may struggle to find a charging port when on the move.