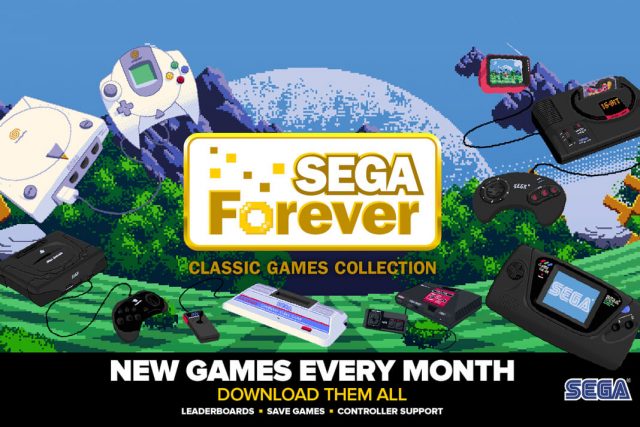 Before Nintendo, PlayStation, and Xbox changed the gaming industry with their superior graphical content, it was SEGA that ruled the industry, and still remains the most prolific arcade developer till date with over 500 games under its belt.
And what was reduced to just an icon of retro games and good old days, is now rebooting into mobile space with SEGA Forever- that will bring all those popular and beloved classic games in our pockets.
Here are the five it is starting with:
Sonic The Hedgehog
Possibly the most well-received game of the early 90s that credited multiple Guinness World Records to its name, Sonic The Hedgehog is now back with more features and characters that will convert into an added dose of adventure and excitement. For those who had the opportunity to play the game on arcade or home-consoles will surely appreciate the nostalgic value it brings on mobile devices. The game has been optimized to cover almost every popular platform including iPhone, iPad, Android, Xbox, and is compatible with all HID controllers.
Altered Beast
When the game originally came out in 1988, it was an instant hit owing to intriguing plot and engaging gameplay. The game takes play in the fictional underworld of Hades where the player had to cross five levels to get to the other side.
To add to the adventure, they had the option to morph themselves into a wolf, bear, tiger or dragon to fight the undead terror with the special power they can collect along the way. While this is enough to keep you engaged for a long time, but if you find some levels too hard to cross, it is worth mentioning that the original cheat codes still work.
Kid Chameleon
If you are interested in mystical fantasy, Kid Chameleon is something you must give a try. It is a game weaved around an ordinary kid who gains strange powers through magical masks, including the powers to transform himself into a medieval knight, a human tank, and a high-flying superhero.
The game has over 100 stages filled with hidden areas and secret warp points, using which you can collect 9 different masks to gain even exciting powers and in the process, can spend some quality time. The same fun is going to happen on your mobile screens now.
Phantasy Star II
If you like to bring some competition in the game, the world of Phantasy Star is for you to explore with your friends. The 30-hour RPG (Role-Playing Game) campaign lets you choose any of the 8 avatars and shoot your way through robots, mutants and virtually everything that comes your way.
If you think the sniper rifles are cool in modern games, hold your opinion until you get your hands on the laser swords and pulse cannons to charge your assaults.
Comix Zone
This game is for those who live a parallel life in the world of comics. The plot is based on a street-smart comic book artist who gets trapped inside a comic book he created himself and must fight his way out with the enemies he himself created.
Be it a battle with Mutant Queen or a duel with the super villain Mortus, this interactive comic book-cum-game is bound to give you an adrenaline rush.
All the five games mentioned above are free to download and can be even played offline, as long as you periodically connect to the internet to save your progress. However, if you do not wish to be interloped by ads during your quest in the fictional world, you will just have to pay $1.99 to make the app free from ads.
Now if you take a closer look at the above game titles, you will notice that all these games carry a completely different flavor and are aimed at different audiences. And as mentioned in the beginning, SEGA has over 500 arcade titles under its belt, which it plans to release one every two weeks.
So, for all the game enthusiasts, retro game lovers in particular, the fun has just begun.