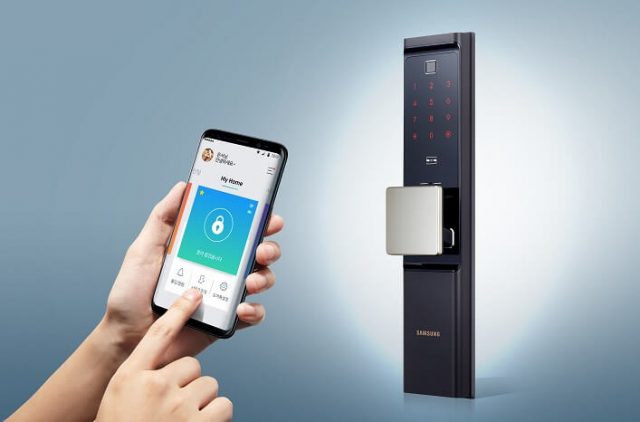 While smart door locks have been around for quite some time and a major component of the overall smart home ecosystem, there were mostly patchwork solutions available with limitations on range, compatibility, and more. Samsung's SDM (Smart Home Division) have now come up with the first truly IoT-enabled smart door lock. The device comes with an in-built low-power Wi-Fi chip that connects to the indoor Wi-Fi router and has an extended battery life.
The lock relays its real-time status to the corresponding app and thus users can get informed of any intrusion attempts in real-time. The application can also be used to remotely control the lock in case you want to give someone access to your home when you are not there and even track the entire history of all door accesses. The lock also has inbuilt sensors that detect your movement and distance and automatically unlock the door accordingly.
To ensure you are never locked out of your own home (in case you don't have your phone or keys), the lock offers a whole range of secure unlocking systems including fingerprint, password, RF key tag, and even an emergency key.
Because security remains one of the key concerns regarding such devices, Samsung has taken ample steps to fend off attackers. Along with standard SSL/TLS encryption, it also implements its own propriety encryption algorithm- S-WBC (Samsung SDS-white box cryptography), to encrypt data stored in the lock as well as for communication with the smartphone app.
While the company has not yet released any information on its price or availability, it is expected to hit western markets in coming weeks.