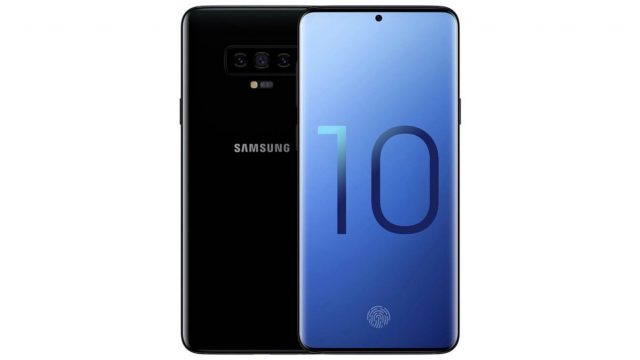 As we had informed months ago, Samsung's next flagship- Galaxy S10 going to bring some pretty innovations and the latest developer's conference dropped quite a few hints about them. The first and the most exciting is the new range of displays. It worth noting that Samsung is currently the only major phone manufacturer whose flagship doesn't have a notch.
As the company has unveiled, it has got something better- true full-screen display. Yes, Samsung has mastered the technology where all the required sensors (including front camera) that create the need of those notches, can be placed under the display. And if you add to that the fingerprint scanner too would be put under the display- like the OnePlus 6T, what we can expect is truly edge-to-edge display. Through the company would also release devices with u-shaped, v-shaped, and o-shaped notched displays, the first of its kind no-notch certainly seems impressive.
Another possible hint at the conference pointed to the possible color variants of the upcoming device. The new One UI- Samsung's custom Android skin, is built to automatically adjust colors according to the color of the device body. The presentation included samples of- Pink, Green, Silver, Blue, and Black. Though four of those colors were already expected, the Green variant comes as a real surprise. Except for now dead Lumia devices, no major smartphone has embraced this color.
Now if we club all these information together with our previous knowledge, we can draw a rough outline of the upcoming S10. For starters, there might be three variants- just like this year's iPhone.
The three Galaxy S10's
The top would have all the features- no-notch display, triple-camera setup, fingerprint sensor under the display, and possibly storage variant going up to 512GB
A slightly lower variant might have an o-notch display, a dual camera, and just some incremental updates.
The lowest variant might have a regular u-notch and would essentially be a more powerful Galaxy S9.
Price
Samsung, in the past, been consistent with its price tag. The Galaxy S8 and Galaxy S9 cost almost the same. But as you would expect, these new cutting-edge technologies don't come cheap. For that reason, the top variant would definitely see a major price jump- somewhere in the tune of iPhone XS Max. The middle variant would cost somewhere around Galaxy S9 and the lower variant would be priced in even lower, like a sub-flagship.
Release
Samsung has traditionally released its flagship at MWC in March but we had earlier reported that S10 might be an exception and launched earlier at CES in February. This would give the company ample legroom to make an exclusive launch of its much-hyped foldable display phone- Galaxy X at the MWC.