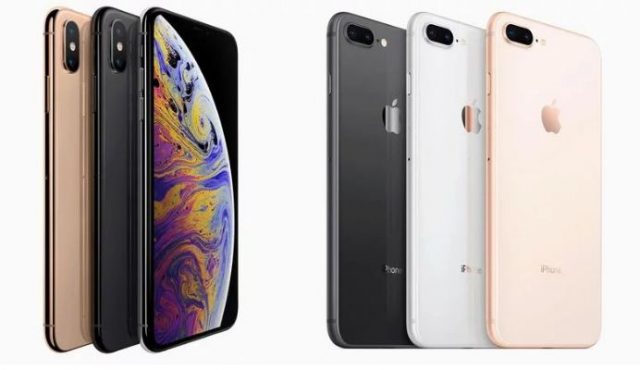 Ever since Apple launched three of its new iPhones, there has been a raging debate on whether these devices pack enough for users to switch from their iPhone X. After all, they are almost the same in many aspects and the higher asking price is kind of a deal breaker for many.
But as you may recall, it wasn't iPhone X but iPhone 8 that was the bestselling iPhone of last year. So, if these devices have to be a massive success, let's take a look at how they fair against the last year's bestseller. To keep things simple, we'll compare the top model of last year- iPhone 8 Plus against the top model of this year- iPhone Xs Max.
See Related: iPhone XS vs iPhone XS Max vs iPhone XR
iPhone XS Max vs iPhone 8 Plus: Design
In terms of design, these two phones are as far apart as they can be. While iPhone 8 Plus comes with the traditional thick bezels, a standard rectangular display and a home button- all packed in an aluminum frame, iPhone XS Max is nearly bezel-less, has a notched display, and no home button- all packed in a steel frame. The glass body at the back, however, remains the same in terms of design but Apple claims iPhone XS Max's glass is much stronger.
iPhone XS Max vs iPhone 8 Plus: Display
It's not just about the form-factor but the displays on both the devices are starkly different in qualitative measures as well. The iPhone 8 Plus has a 5.5-inch IPS LCD display with 1080 x 1920 resolution that turns out to 401 PPI. iPhone XS Max, on the other hand, has much larger and better 6.5-inch Super AMOLED display with 1242 x 2688 resolution that turns out to 458 PPI.
iPhone XS Max vs iPhone 8 Plus: Performance
Like design and display, the new iPhone XS Max has leaped ahead of iPhone 8 Plus in terms of performance as well primarily due to the new-generation A12 Bionic chip. While the new chip is definitely faster and more power efficient- something expected of every new chip, what makes it special is the introduction of on-chip AI capabilities. While the full extent of its benefits isn't clear at this moment, there are reasonable claims of apps loading faster, lesser lags in scrolls and more.
Update your iPhone now with iOS 12: Here are the iOS 12 Key Features
iPhone XS Max vs iPhone 8 Plus: Camera
In terms of raw specs, cameras on both devices are almost identical with the 12MP+12MP setup at the back and a 7MP on the front. But there are, however, some notable differences. The telephoto lens in the iPhone XS Max has a larger aperture that converts into better low-light photography. The AI capabilities in the chip are also claimed to have dramatic effects in improving the overall picture quality and the inclusion of dual OSI means videos will also be quite smooth.
iPhone XS Max vs iPhone 8 Plus: Variants
While iPhone 8 Plus is available in only 64GB and 256GB storage variants, there is also a 512GB variant of iPhone XS Max. Both devices come in the same color options- Space grey, Silver, and Gold.
iPhone XS Max vs iPhone 8 Plus: Price
There are significant differences in this segment as well but in the favor of iPhone 8 Plus. The last year's flagship started retailing at $799, this year's iPhone XS Max has a base price of $1,099