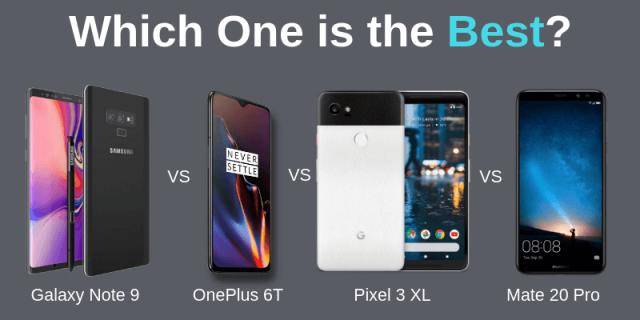 If you like smartphones with large displays, you couldn't be living in better times. With almost every flagship featuring displays exceeding 6-inches, there is no shortage of options. In fact, four of the best Android devices currently- Mate 20 Pro, Pixel 3 XL, Galaxy Note 9, and OnePlus 6T tick all the boxes users look for when deciding to purchase a device. But which one of them is better? Or which one should you buy?
Also, as all four of the devices have just been launched, they carry the best their respective manufacturers have to offer. This means there are no excuses for any devices to be old and thus lagging in any segment.
Design
As is the trend these days, all the four devices carry the same design factor- glass body fitted on an aluminum frame. Except Galaxy Note 9, all the three devices come with a notched display of which OnePlud 6T has the smallest notch while Pixel 3 XL and Mate 20 Pro have broad ones. In terms of form-factor, the size and weight of all the four devices too are almost identical to the degree of hundredth of an inch!\
Hardware
All the devices feature some variant of OLED display of roughly the same size and resolution. The key difference lies under the hood. While the phones- Pixel 3XL, Galaxy Note 9, and OnePlus 6T are powered by Snapdragon- 845, the best SoC by Qualcomm, Mate 20 Pro comes equipped with Kirin 980, Huawei's homegrown chipset. Which one's better? Well, Snapdragon 845 is a 10nm based chipset while Kirin 980 is fabricated in 7nm- offering it with a wide range of advantages. In benchmark tests, the chipset easily outperforms Snapdragon 845 and it is reasonable to claim that Mate 20 Pro has more raw power.
As for the memory and storage, the top variants of Mate 20 Pro and OnePlus 6T have a configuration of 8GB+256GB while Galaxy Note 9 ups the ante by having 8GB+512GB under the hood. Pixel 3 XL seems like an outcast in this matter with its humble 4GB+128GB configuration.
Performance
Given that all the four devices are packed with top-tier hardware, be assured that they would swiftly glide through all the tasks you throw at them. There is no way you are going to experience even a whiff any lags. But if you are looking to split hairs, Mate 20 Pro would definitely have an upper hand, particularly when playing heavy games. Other three devices would perform basically the same. Yes, even Pixel 3 XL despite its lower memory because of the high optimization. There are some claims regarding the custom skin of Galaxy Note 9 vs the stock Android on OnePlus 6T causing variations in performance but that's something you won't ever notice.
Camera
Now, this is a segment where differences really start to appear. Mate 20 Pro with its Leica optics triple-camera setup is the clear winner here. Next in line is Pixel 3 XL, though it might outperform the former in low-light conditions and selfish. Galaxy Note 9 has a really impressive camera but not better than those mentioned. Finally, the low cost of OnePlus 6T seems to take a toll on its camera. It is, by all means, a good smartphone camera but falls way behind the flagship benchmark.
Price
We again have a clear winner here- OnePlus 6T. the next in line is Pixel 3 XL followed by Galaxy Note 9. The Mate 20 Pro is the most expensive of the lot.
Verdict
If you have money to spare and are not in the US (there is politics involved), Huawei's Mate 20 Pro is absolutely the best flagship you can buy at the moment. If you are okay with a fine device and quite a lot of money in your wallet, OnePlus 6T should be your choice. For those looking to experience the best of Android, you would be amazed by Pixel 3 XL. If you intend to use your phone a lot for professional tasks, Galaxy Note 9 is made for you. Plus, the stylus brings its own unique charm