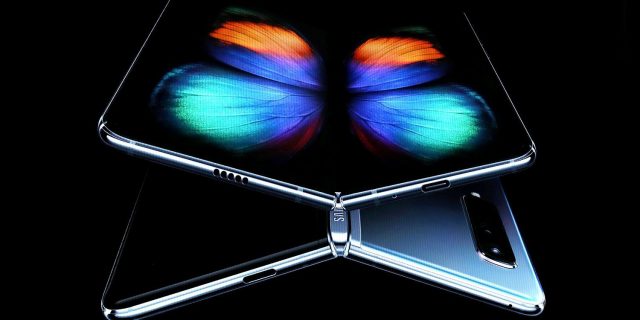 We have here talked a lot about the prospects of foldable screens and now that Samsung has finally taken the plunge, let's dive in to see if the expectations match the reality. But before we get into the device specifics, it is worth pointing out that the launch of Galaxy Fold signifies two major things:
Samsung has again taken the lead in the innovation curve
It demonstrates that foldable displays are viable and isn't just about gimmicks.
So what is Galaxy Fold? And is it really as revolutionary as advertised? Let's find out:
Samsung Galaxy Fold Design
Now we have to unpack a lot in here so let's take it step-by-step. At first look, the phone seems to have arrived from a decade ago. The 4.6-inch display with thick bezels and an overall bulky form-factor (more on this later) is something you wouldn't expect to see in 2019. You can use this display the same way you use any other phone- for calling, texting, apps, etc.
Now if you feel the display is too small for your task, you unfold the device from the side (like a book) to reveal a massive 7.3-inch display. More than a phone, this display has a form-factor of any tablet. Overall, the device looks much like something borrowed straight from science fiction- something Westworld fans would instantly recognize.
Samsung Galaxy Fold Features
Though the device features two displays- each of which has to be used independently, they nonetheless work in tandem through what Samsung calls app continuity. What this means is that when you unfold the device, the content of your home display would be instantly available on the main display as well. Another much-touted feature is its ability to run three different apps side by side. So you can watch videos, chat with a friend, and browse the internet at the same time- if you are such good at multitasking.
Also, for people skeptic about the folding mechanism and the consequent durability, the company emphasized that it has deployed a highly sophisticated propriety technology that has been tested to work hundreds of thousands of times without any signs of strain.
Samsung Galaxy Fold Hardware
It should go without saying that for such a premium device, Samsung has picked the best possible components. It would have a total of six cameras, run the latest Snapdragon 855 chipset, and have enormous 12GB RAM and 512GB storage. Also, to power two displays, the device features two batteries with a combined capacity of 4380mAh.
Samsung Galaxy Fold Price
If you have been scoffing at the price tags of the latest iPhones, hold on to your hats. The Galaxy Fold would retail at $1980 starting 26 April. Yes, that is an exorbitant price but then there is nothing to compare against this device as well.
A leap forward
The Galaxy Fold is, by all means, an innovative device that would most probably be the default form-factor in the future. It certainly beats the iPhone XS Max in the ultra-premium category and is currently the most exclusive device available on the market.
The Achilles heel
Everything said, there one problem that may become the reason for its demise. No, it's not the price. The device seems too thick to be comfortable. It is worth pointing out that even after the official launch; the phone is yet to make it to the public view. Except for those official renders and demo, we still don't know much about the device. This means either the device still isn't ready or the company is aware of some fatal flaws that it doesn't want to be talked about two months before it goes on sale- potentially killing all the hype.
Verdict
There is a famous quote for people who complain about iPhones being too expensive- "iPhones aren't expensive. It's just that you are not the target audience." The same holds true for Galaxy Fold as well. Even the company doesn't expect the phone to clock large sales figures but is aimed at the early adopters.
So if you are a casual user, won't advise you to pick this $1980 phone- you can if you wish to use it as a status symbol. You would be much better off with the S10 or iPhone XS- depending on the platform you prefer.