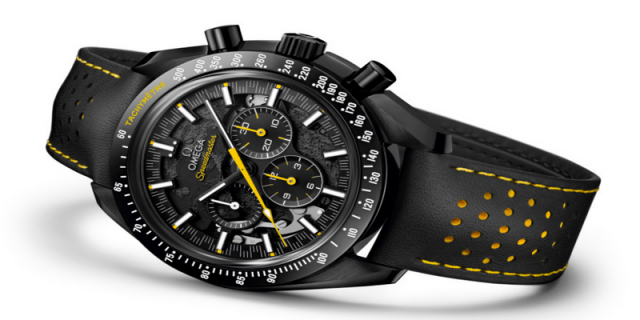 For all the horophiles reading this, you may be aware of the moonwatch collection from Omega– popular due to its unique history. The iconic model was worn by Neil Armstrong when he landed on the moon. The company has consistently nurtured the model over the last decades has now expanded it with a new chronograph- Dark Side of the Moon Apollo 8. Though the design cues have been largely taken from previous models, it does have some fresh touches.
For starters, it looks more like a modern watch than a classic timepiece. Having an exhibition back and skeletonized face, you can see the internal mechanics of the watch whosebridges are laser-etched thatrepresent lunar surface and the background effects. And apart from the name of watch, there is also a quote engraved at the back- a quote, which like the watch, has its own interesting story. It simply says- "WE'LL SEE YOU ON THE OTHER SIDE" It's a quote from the commander on board of Appolo 8. He spoke these words moments before his spacecraft went beyond the range of ground control to orbit the dark side of the moon- a hemisphere never before seen by human eyes.
Now you see what really makes this watch special- apart from its association with the first mechanical watch on the moon, Omega has now also started branching out to specific missions- making it the perfect chronograph to own even for those space enthusiasts who do not wish to compromise on fashion as well.