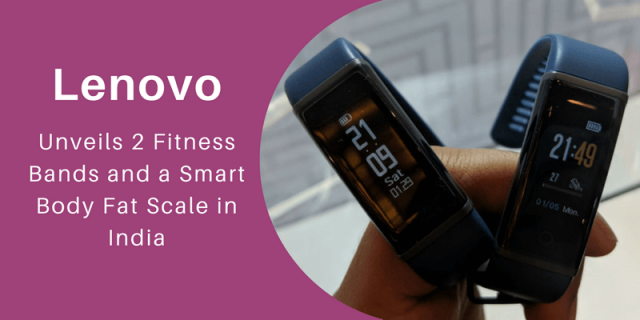 As computer business slows down and being sidelined in smartphone segment, Lenovo is now taking a new route to Indian market- accessories. At a recent event in New Delhi, the company released 3 new gadgets and showcased a whole range of new accessories to be launched later.
See More: Top 5 smartwatches under 5000 in India 2018
Of the three new gadgets, 2 are fitness bands- HX03F Spectra and Cardio HX03, and a smart body fat scale. Talking about the bands first, HX03F Spectra comes with a 0.96 inch (128 x 32 Pixels) OLED display and all the regular bunch of sensors including optical heart rate monitor, and uses Bluetooth 4.2 LE to pair with both Android and iOS devices. Weighing just 20 grams, you can use this band to track your activities and receive notifications for up to 10 days on a single charge.
The Cardio HX03 band also has exactly same specs except  the monochrome display instead of the OLED and is available for purchase now while the Spectra version will hit the selves only by 3 May. Plus, it is also cheaper by Rs 300 at the price tag of 1,999 compared to 2,299 that you will have to pay for Spectra.
Another new gadget is a body scale- Lenovo HS10 that measures much more than just weight. The smart scale with a glass-top and display underneath can tell your BMI, subcutical fat, visceral fat, bone mass, among other such details. For those of health enthusiasts, this can be quite a handy device to periodically keep track of their body and results of their workouts at a very reasonable price of 1,999.
Among other announcements, the company showcased many car accessories that it has promised to introduce soon. From wireless chargers and in-car air purifier to multi-plug car charger and night-vision-equipped rearview mirror, there is a whole of new accessories that Lenovo is going to experiment in the Indian market. Stay tuned to know more about them as they are introduced.