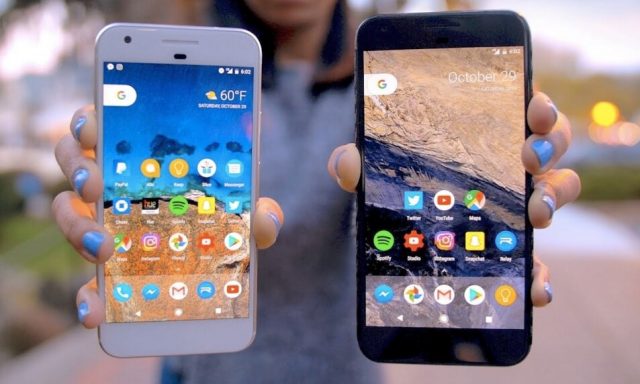 October 4th is slated to be the official announcement day for the release of Google's next-gen Pixel models, Google Pixel 2 and Pixel 2 XL. But unfortunately, ahead of the big day, the specifications list of the upcoming Pixel models has surfaced the Internet- courtesy a reliable source that reported to Android Authority on Thursday. Subsequently, Android Authority verified and published a blog post on its website.
Leaked Features of Google Pixel 2 and Pixel 2 XL
Here's a rundown of features that'll be embracing the two most anticipated smartphones of this year.
Qualcomm 835 Snapdragon– The flagship chip from Qualcomm is fitted inside both the models.
Storage– Google plans to double the base storage capacity for the Pixel devices to either 64GB or 128GB.
Enhanced OLED display– Pixel 2 XL will have the Wide Color Gamut while Pixel 2 won't be equipped with the same.
Screen-to-body ratio– For Pixel 2 XL, it will be in the range of 80% to 85%. The Pixel 2 retains the same bezels.
Headphone jack misses out– Google Assistant equipped wireless earbuds are likely to be center staged along with the Pixel models, which may compensate for the missing headphone jack.
Dual camera with OIS– Both the Pixel 2 and the Pixel 2 XL will have front and rear cameras christened as 'Pixel Cameras' with optical image stabilization and Google's imaging chip.
Upgraded fingerprint sensors– The sensors have been improved and placed at the back of the Pixel phones like the predecessors.
Battery– The Pixel 2 XL gets a larger battery (3520 mAh) than its predecessor while the Pixel 2 will come with the same 2700 mAh battery as fitted in the Google Pixel.
Gorilla Glass 5– Both the devices will now have the more scratch resistant and tougher Gorilla Glass 5.
USB-C earphone port– The smartphones will get the only USB-C earphone port. However, the box containing a pair of USB-C earphones isn't for global sale and delivery of box containing earphones will depend from region to region.
E-SIM card slot– The New Pixel-series devices will have an 'E-SIM slot' which means that without replacing a SIM card, you can switch from one network service provider to another.
Active Edge– On the left side of the phones, there exists a feature called Active Edge that can be squeezed to launch Google Assistant or to mute alarms and incoming calls.
Plus, if you buy any of the two devices, Google Pixel 2 and Pixel 2 XL you will get unlimited Google Drive storage space for five years. Currently, you are required to pay $99.99 a month for using 10TB of Google Drive space, which a great deal for frequent Google Drive users or the ones who use it for business purposes.