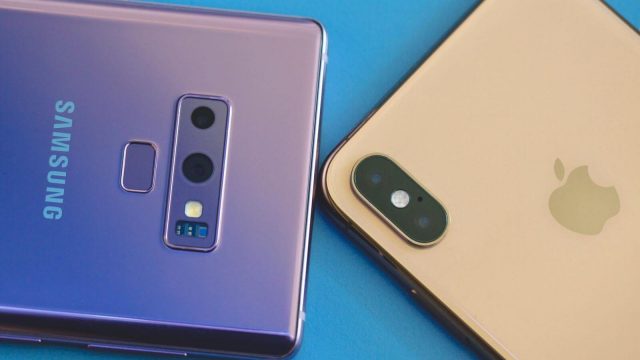 If you are out to buy the best smartphone, chances are you'll settle either on the latest iPhone or the latest Galaxy device. Apart from features and performance, they also offer some of the finest smartphone cameras. We have previously looked in great detail comparisons of their cameras including when we pitched the camera of iPhone X against that of Galaxy Note 9 and the camera of iPhone X against that of iPhone XS Max (XS has the identical camera). Now it's time to pitch the winners of the two- cameras of Galaxy Note 9 vs iPhone XS Max.
Because we have already talked in length about their individual features, we'll just save the repetition and get down to the differences:
HDR
As described in an earlier article, the Smart HDR in iPhone XS Max that takes multiple HRD shots at once and delivers the version out of it is pretty amazing. While Galaxy Note 9 takes really good HDR shots, it simply can't match the AI-powered Smart HDR of iPhone XS Max. Though you might find the difference to be minuscule in shots taken in ideal lighting conditions, they become quite apparent when the lighting conditions get tricky.
See More: iPhone XS Max vs iPhone 8 Plus
Zoom
Both the phones support optical and digital zoom and are almost equally good at capturing details in optical but equally bad when shots are taken with digital zoom. But that's something smartphones cameras have been always bad at. It's just that there is nothing special in this regard.
Portraits
Both phones have a portrait mode and allow the background blur to be adjusted after a photo has been taken. The iPhone XS Max, however, has an extra trick- adjust how the lighting looks on the face. This gives you extra control over your selfies while they are rendered automatically in Galaxy Note 9. And it isn't just about control, the auto rendering on Note 9 can sometimes deliver too much-beautified pictures despite the beautify mode turned off.
See More: iPhone XS vs iPhone X
Low-light
Galaxy Note 9 with its f/1.5 lens has the largest aperture on any smartphone camera. So its natural the device takes low-light shots using this lens only and delivers stunning results. The image of iPhone XS Max, however, despite being darker, is more balanced and sharper.
Final remarks
Overall, both the cameras are almost toe-to-toe and there would be few instances that you can even tell the difference by their image quality. The Smart HDR of iPhone XS Max, however, lends it more confidence in handling shots in varying lighting conditions while Galaxy Note 9 remains the king of low-light photography.