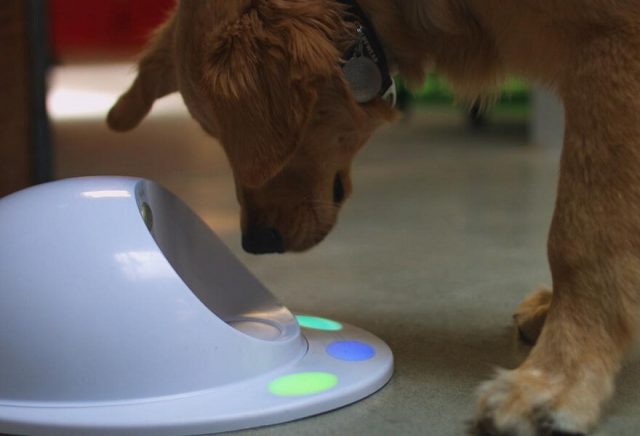 If you feel bad for your dog who stays alone at home while you are out for work, you should now get over this. There's an incredible invention of technology that will awe you and your dog. The American-based game console startup, CleverPet Inc. brings forth an amusing connected game console- Color Match, for your dog to keep it busy and engaged for all day long.
And if any of you believed that dogs are colorblind, this is the time to get off this myth.
This pet gaming console declares that dogs and cats can actually see and respond to colors. The San-Diego company has been in the limelight for game development for cats and dogs when the family is out. This time, they have gone beyond to use their expertise in making color-based puzzles for dogs.
With the launch of this technology breakthrough, the expert team at CleverPet has also revealed that while humans have three types of color-sensing cones, dogs have only two, confining their color insights to the bluish-yellow spectrum.
In this new gaming hub, they've added a color matching game, where the dogs have to match the colors lit on the device touchpads. By pressing the touchpads until all three of them glow to the same color, the dog keeping horsing around. And the level of difficulty increases as the dog keeps getting through the current puzzle. This is real entertaining, and many dogs have been rejoicing the puzzle solving. They even express the happiness once they pass.
Further, to solve each puzzle, each dog has its individual way, and it's amusing for the owners and parents to see how their favorite pet discovers a new, unique strategy to solve a puzzle.
Later in July, Color Match is launched for all audiences, but will only be available for dogs who had shown a satisfactory performance in the other CleverPet gaming hub earlier.
This next-level of engagement by CleverPet will pioneer a completely new dimension of animal interaction. Their acceptance towards technology and gadgets is spectacular as the dogs had been witnessed making intelligent moves and strategies to problem-solving.
So, along with an adorable four-legged family member- you can feel happier to have a smart and more responsive doggie.