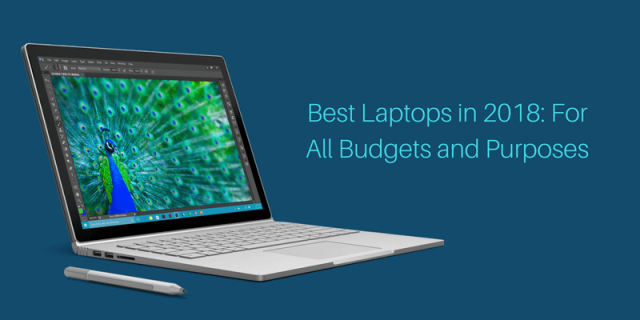 No matter how large and powerful smartphones get, there is no way they can replace the good-old notebooks by matching their productivity or even delivering the intense gaming experience that they can. So if you are looking for a solid companion for work or for the gamer inside you, here are our best picks that won't disappoint even for a second.
In Premium Category 
Surface Book 2
The fact that this is the best laptop Microsoft has to offer in itself a testimony to the premium category of this laptop. Having an exceptionally good built-quality and housing the top-of-the-self components like Intel's i7 processor, 16GB memory, 6GB of Nvidia GPU, and 15-inch display of resolution  3240 x 2160, Surface Book 2 is simply built to impress. And as you would expect from such high-end laptop, there isn't a task that the system wouldn't seamlessly glide through. Perhaps the only downside you may experience is its 1,905 grams weight- which given its metallic built is obvious but might become inconvenient sometimes.
See More: Top 5 laptops under Rs.35,000 with i5 Processor in India 2018
Macbook 15-inch
Well, we can't get past the premium tag without mentioning Macbook, the 15-inch version to be more precise. Available in silver and Apple's signature space gray colors, the sleek design and a seamless ecosystem remain the most appealing factor of this notebook. As for the specs, the company isn't cutting any slack here either. Powered by Intel's i7 CPU, 16GB memory, 4GB Radeon Pro graphics, and 512GB storage (configurable up to 2TB), the 15.4-inch Retina display too is a pleasure to behold.
In Workhorse Category 
Dell XPS
Convertibles generally have a reputation for compromising performance over portability but Dell XPS does well to dispel that notion. Available in both 13-inch and 15-inch variants, it is one of the best all-rounders you will find on the market. It looks gorgeous, is blazing fast, highly portable, and fits in the budget of mid-range buyers. Particularly known for its 4K Infinity Edge anti-reflective touch display, it runs on either i5 or i7 processor (depending on variant), 8GB RAM, 4GB dedicated graphics, and 512GB of SSD storage- enough to handle even the most resource-hungry tasks smoothly.
See Also: Upcoming Laptops in India 2018 With Expected Price and Launch
HP Spectre x360
Simply put, this is the HP's answer to Dell's XPS lineup and is equally, if not more, impressive. The specs are basically the same except it boasts 16GB RAM and has noticeably longer battery life. And if you care about benchmarks, it beats Dell XPS on literally every test, though by a small margin.
In Gaming Category 
Razer Blade
Gaming laptops are generally all about raw power and Razer, being one of the top manufacturers in the domain knows precisely how to build the most powerful laptop. The latest Razer Blade comes equipped with just launched Intel's 8th generation i7 processor, a whopping 32GB RAM, GeForce GTX 1060 Max-Q GPU, 512 GB SSD storage (up to 2TB), and an impressive 15.6-inch 4K display. Though this laptop is more powerful than our workhorses and more expensive than ones mentioned in the premium segment, the exceptionally large vents and a weight of 4.73 pounds means it isn't meant to be casually carried around.
MSI GS65 Stealth
Like Razer, MSI remains a prominent player in the niche market of gaming laptops and its MSI GS65 Stealth remains one of the favorites of hardcore gamers. For starters, it doesn't really look like a gaming laptop in its thin form-factor but when it comes to performance, there are no compromises. Powered by Intel's i7 CPU, 16GB RAM, 8GB Nvidia GeForce GTX 1070 GPU, perhaps the only downside is its limited 512GB SSD storage- which is enough to play a plenty of games but not enough to create a collection of them.