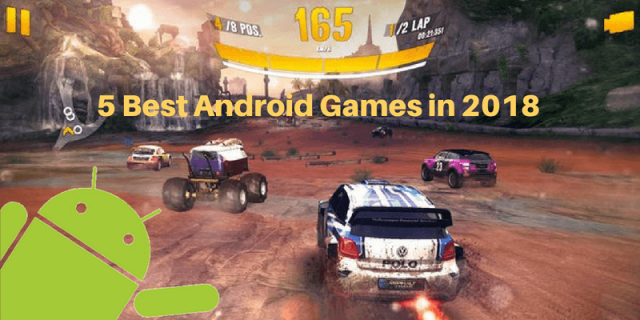 Gaming enthusiasts are looking forward to yet another gaming year after 2017. Between "Monument Valley 2", "South Park: Phone Destroyer", "Iron Marines", "Card Thief", "Neon Chrome", it's going to be hard to top 2017's games line up. There are more apps and games than ever on play store these days and it's difficult to keep a tab on the frequency of the content. Pretty sure you do not miss any action, here is a list illustrates 5 best android games to play in 2018:
Asphalt 8: Airborne or Asphalt: Xtreme
The good Asphalt 8: Airborne delivers on the fast-paced, high flying action that makes arcade racing games fun. It is the successor to Gameloft and already enjoys more than 10 million users. Aggressive gating coupled with in-app purchases slows down its pace a little but it has the hottest and most superior dream machine ever created from cars to bikes. It comes in an 80.43 MB file size with the latest version as 3.6.0 K. It is going to be a gravity-defying arcade multiplayer racing experience full of real dream cars and bikes.
Critical Ops
Ready for an action-packed first-person shooter? Critical ops are the next best thing to Counter-Strike on mobile. It is not pay-to-win and everyone gets the same loadout. Although the option to change the weapon is missing the user still has an option to change the weapon skins. Weapons cannot be purchased or unlocked. It is a skill based game and there is no penalty for players if they leave in middle. It comes in 4 game modes – Defuse, Team Deathmatch, Ranked Games, and Gun Games. Offers by Critical Force Ltd., the game already has more than 10 million users. It runs on Android 4.4 and up and the latest version is 0.9.8.f544.
Clash Royale
Developed by Supercell, creator of Clash of Clans Class Royale is a freemium, real-time, multi-player video game that features 'Royals', favorite clash characters and much more. Although its free but some of the game items need real money. It allows forming a clan, to share cards and build a battle community. Collect and upgrade Clash of Clans troops, spells and defenses as well as Royals and knock the enemy. What's more, the assemblage of gameplay mechanics and genres in Clash Royals actually works incredibly well for a mobile game.
Final Fantasy Brave Exvius
Not very long ago, we saw a wide release for Kingdom Hearts Unchained Chi and Square's collaboration with Brave Frontier, we now have Final Fantasy Brave Exvius that features PVP battlefield-indulge into interactive battles overpower opponents in strategic maneuvers, all this in high-quality CG animations of Final Fantasy summons. Players have an ever-expanding line up of desirable goodies to chase after.
Hearthstone: Heroes of Warcraft
Published by Blizzard Entertainment, Hearthstone: Heroes of Warcraft is a collectible card video game that allows sling spells, summon creatures, command the heroes of Warcraft and seize control of an ever-shifting battlefield. It is insanely fun and deceptively simple. Heavy as it might seem, it will require 2GB of device storage.  Whether pro or experienced the ecstasy of Hearthstone is compelling.