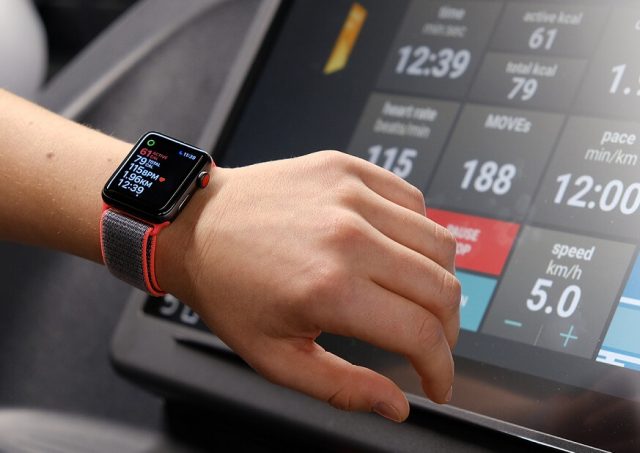 So, what's it all about. Well, first of all, it's again Apple Watch supported technology that you have been using till date. But moving a step ahead it is going to help you with measuring and referring to outdoor and gym activities.
Already launched in the US, it is about to spread across different parts of the world. It all started at this year's WWDC in June, where the product was first announced and revealed. At the conference the GymKit was defined as a new protocol added to Apple Watches, that uses technologies like NFC and Bluetooth and is powered with watchOS 4 to connect and work with different gym equipment.
Coming on to its practical use, GymKit is basically meant to help you with every data and each detail you need to have with you to get the best information and assistance in your workout regime. The idea is to provide you the accurate data and parallel support you need to track and measure your performance and progress in the gym.
All you need to do is wear your Apple Watch while you are working out and it will start doing its job – keeping you updated and acknowledged with all the details and information you need from it as your gym assistant.
So, what all exactly it does for you? Apple's GymKit can measure and reveal all the workout data and let you compare activity levels dynamically from different perspectives. So, with this revolutionary technology, working out on machines like treadmill, stationary bike, stairs-stepper or an elliptical, you get to measure details like numbers, pace, distance, heart rate and calories burnt. And all that with great accuracy and in an instant manner. Other than this, GymKit transfers all the data of your Apple Watch to the bigger screen of your treadmill or any other equipment almost at the same time. The program stores the data and dynamically transfers it to the repository to be fetched and referred later and used to reveal richer information.
Using the GymKit is delightfully easy – you just need to tap once, and your Watch would connect with the GymKit machine. And you are ready to go. As you start doing workout your data would automatically store on your gadget and in the Apple's Activity app. And this will continue till the time you are done with your workout.
But, it should take some time to be a regular and integral part of the workout regime, as Apple Watch is a bit complicated device to allow machines and equipment to comply with its security and performance norms. However, as and when it comes out to the center, it should allow great utility in the segment and must prove disruptive in the segment of workout technology.