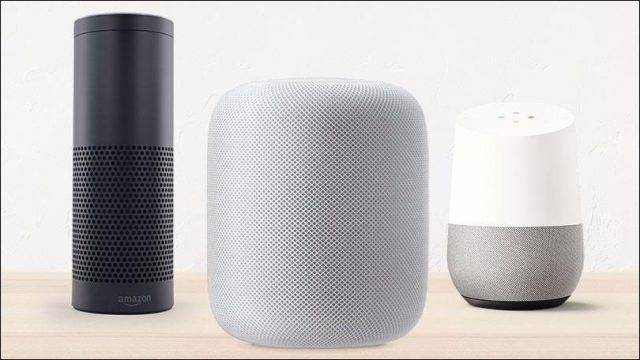 Smart home speakers are still a relatively new addition to our bouquet of gadgets- so much so that even the most tech-savvy of users are still struggling to find the exact purpose of these devices. Yes, they are capable of doing a lot of things but the core purpose still seems to be a bit vague (the consensus believes them to be the central hub for all smart home devices). Like that wasn't enough, when customers do decide to buy one, they have to face another daunting question- which one? With three of the largest tech juggernauts competing in the same segment with their devices, there are no simple answers.
To put it in the simplest terms- the smart home speakers are nothing more than a physical form of digital assistants that we all can anyway access on our phones. Siri becomes HomePod, Assistant becomes Home, and Alexa takes the shape of Echo devices. So as you would guess, the abilities of all these devices are tightly linked to the assistants they represent. Here is a breakdown in three key regions:
See Related: Google Home Max is Now Available for $399
Connected devices
If managing smart-home devices is the core purpose of these gadgets, all three of them almost have an equal footing. Most of such devices from third-parties like Phillips are compatible with all three speakers. Although there are  exceptions like smart devices from Nest and Samsung are supported only on Home and Echo, leaving HomePod a bit on the downside. Also, when it comes to their home-grown services, all three of them are restricted to their own ecosystem. That is, HomePod will only work with AirPlay, Home is compatible only with Chromecast, and you can use Echo only with Fire TV.
Winner- Home and Echo
Actions
From calling an uber and ordering Pizza from Domino to shopping online, these smart speakers are really capable of a lot- albeit not all of them. Owing to its crowdsourcing,where any developer can create skills, Echo has gone far ahead in this domain, closely followed by Home. HomePod, for now, does little to nothing when it comes to actions involving third-parties.
Winner- Echo
Voice recognition
We have all heard that "sorry, I didn't get that" response from digital assistants when posed with a query. With Home, you are likely to hear that less frequently, at least lesser than Echo than HomePod. There is also an additional perk- Home recognizes different voices and keeps a separate profile for them. That is, if someone says call "driver", it will call the "driver" from their contact and not the "driver" of any other person of the house. Also given its enormous knowledge base, the response to trivia questions is also much more detailed Echo is closely trailing in all those aspects but HomePod has still to go a long way .
Winner- Home
Read More: Amazon Echo vs Google Home
The verdict
By now it is almost evident that if you are looking to buy a smart speaker, you should take your pick between Echo and Home. But here is something interesting- that assessment is based on the "smart" aspect while if you focus on "speaker" part, HomePod simply has the best sound among them by a long margin. So our suggestion is, if smartness is your priority, go for Google Home or Amazon Echo but if you are just looking for a speaker that is also smart, HomePod probably won't disappoint, especially if you are already in Apple's ecosystem.