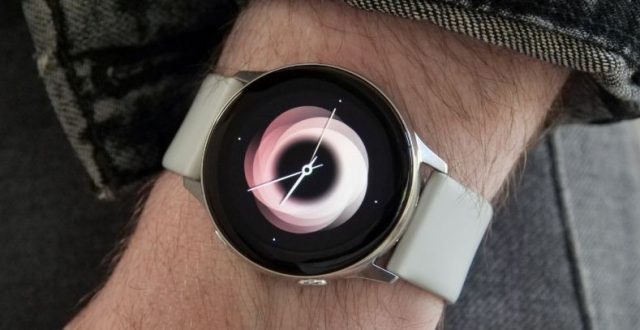 Before Google concluded the latest edition of its annual developer's conference earlier this month, it was widely rumored that it would also launch a brand new smartwatch under its Pixel lineup. But the purported watch never came and that means Samsung's Galaxy Gear Active is still the best smartwatch available on the market, at least in the Android universe.
Samsung Galaxy Watch Active Design
Weighing just 25 grams with its sleek smooth design, Galaxy Watch Active is one of the most compact fitness watches available on the market. Having an overall dimension of 39.5 x 39.5 x 10.5mm, the Active-edition makes a significant departure from the well-established design ethos of the flagship Galaxy Watch. For starters, there is no rotating dial and the navigation has to be done via buttons on the side. In color options, there are 4 variants- Silver, Gold, Blue, and rose gold- of which the silver and blue remain the favorites.
See More: Apple Watch vs. Galaxy Watch
Samsung Galaxy Watch Active Hardware
Featuring a 1.1-inch display with 230mAh battery underneath, the watch lasts for almost 2 days on a single change. Running the same dual-core 1.15GHz chipset as Galaxy Watch with 4 GB of internal storage, it comes with enough processing power to seamlessly handle all the tasks it is supposed to perform.
Samsung Galaxy Watch Active Features
The Galaxy Watch Active, as the name suggests is built with the core emphasis on fitness. This is also the first watch that can measure your blood pressure- currently available only in the US, along with a host of other fitness tracking capabilities. It comes equipped with all the basic connectivity options and is known to track activities quite correctly.
Samsung Galaxy Watch Active Software
Now, this is an area where the watch arguably falls short. Instead of Android Wear, it runs Samsung's homegrown Tizen OS, Tizen 4.0 to be more precise. For assistant, you get Samsung's Bixby and not Google Assistant. The UI too isn't something to boast about. That said, the device does everything it's supposed to do and you can easily use it with any Android device running Android 5.0 and above and even iPhones running iOS 9.0 and above.
Samsung Galaxy Watch Active Price
The watch retails at $199 which substantially less than Galaxy Watch's price tag of $329 and twice as less as Apple Watch Series 4's selling price of $399.
Verdict
The Galaxy Watch Active is built with a specific target audience in mind- those the fitness enthusiasts who want and sleek but feature-full watch to track their activities. Something that falls between fitness bands and regular smartwatches. If you fit that description, go get this watch now for won't get a better deal.