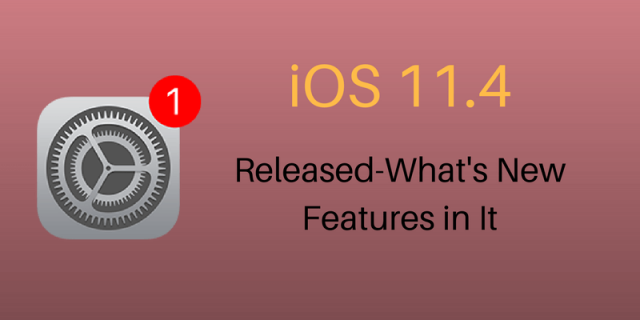 No more week-long dragging, track down all your login information as the new iOS 11.4 is here.  Get your Apple ID/iCloud login and the login info for your important apps and services as iOS 11.4 can log you out from some of your services and apps.
The long anticipated wait ends as Apple serves its latest update with iOS 11.4, almost a month after iOS 11.3, which was a major update that introduced several new features like ARKit, tracking health, SIRI, Battery Power, Apple Music, four new Animojis, Business Chat and data privacy.
Registered developers get the adeptness to download the new iOS 11.4 from the Apple's Developer Centre over-the-air once the proper configuration profile has been installed from the Developer Center.
See Related: iOS 12 Launch: Features and Expectations
What's new in iOS 11.4?
Beta 2 release of iOS 11.4 shows messages in iCloud and AirPlay2.  Besides this, it is also going to come up with Schoolwork Kit and ClassKit API.
Messages in iCloud
It will synchronize user's messages on various connected devices. Essentially same messages will be viewable on all devices.
 AirPlay2
Airplay 2.0 is a wireless-enabled audio/video local streaming technique by Apple. It has the capacity to stream audio from more than one source at a time.
Schoolwork Kit
It is made for teachers to handover information to students, make assignments and keep track of student's progress.
ClassKit API
It assigns various activities to teachers so that they can include it with their Schoolwork.
HomePod Stereo Pairing
HomePod stereo pairing which did not exist in 11.4 beta 2 is there in 11.4 beta 3. This feature does not work properly as it requires unreleased HomePod software.
New Wallpaper
Apple has included a RED wallpaper for iPhone 8 and iPhone 8 Plus.
Resolved Issues
Keychain
The issue that has been resolved with Beta 2 release of iOS 11.4 is – The shared web credentials API that used to return following error – "Autofill disabled".
Airplay
The audio used to lag behind video by 2-3 seconds while streaming it from YouTube.
Only the audio used to play out on Apple TV when a video was streamed from the YouTube app to a single Apple TV.
Music
Playback used to get stuck after the first track was played in some cases.
Mobile Device Management
MDM server configuration cannot be separated from initial setup screens, with Device Enrollment Program supervised devices.
The setup used to crash when 'Auto-advance' was enabled in DEP profile.
What is Still Missing?
There is stereo support for two home pods which was missing from earlier betas.
Download It Here
iOS 11.4 beta 3 is available for download here: Go to settings -> General -> Software Update (on your enrolled iOS device) and click Download and Install to get started.
How to Start Testing iOS 11.4 Beta 3?
If you have an existing Beta Profile and want to join beta test, just sign in here – beta.apple.com, on your iPhone or iPad with your Apple Id. If you do not have an account, create a Beta account and follow the steps that are fairly self-explanatory. Refer guide – How To Install Apple Public Betas, if you get stuck. Charge your device to at least 50% before installation. A little prep will ease out the tedious task.