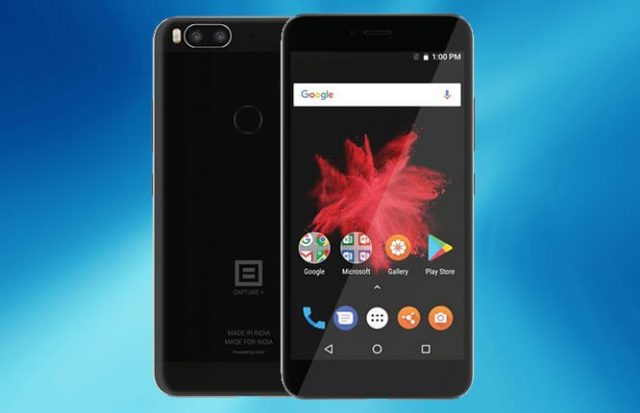 Flipkart is undeniably the unicorn of Indian Startups- the Amazon of India. There is just one problem- Amazon isn't just any retailer but has many products like Kindle or Echo under its own label to help it mop up higher revenues. Flipkart now seems to be on the same route- with its own line of smartphones- Flipkart Billion Capture+. Let's see if the device has the potential to make Flipkart a major player in the smartphone industry or would it end up being just a marketing stunt.
Design
There are no surprises here. The phone comes in a plastic frame with a metallic back and has a reasonably sturdy built-quality- something that has become a standard in the mid-segment. The front has a home button below the 5.5-inch screen and the fingerprint sensor is placed at the back. The device has a 3.5-mm jack at the top and type-C USB at the bottom. One thing you will instantly feel while holding the phone is that it's considerably thicker than we expect the phones to be these days.
Specs
For its price tag, the device holds nothing back in this aspect. The full HD screen offering 1080×1920 resolution is one of the finest you will find on the market and delivers a crisp display at different angles. Powered by Snapdragon 625 SoC, the phone easily handles all applications and games you throw at it without even a glitch, offering a seamless performance. The 3500 mAh battery inside is enough to last over a day for standard usage.
The only area where the phone really lags is the camera. Officially, the phone sports a dual camera (8MP+13MP) but the practical results are really disappointing. The lack of color saturation and lots of noise simply overpower the whole array of configurations that the phone offers. Simply put, you can find much better cameras at not same, but lower prices.
Price
Keeping in line with the trend these days, the phone comes in two memory variants. The one with 3GB RAM + 32GB ROM comes with a price tag of Rs. 10,999 while you will have to spend Rs. 12,999 for the 4GB RAM + 64GB ROM variant.
Verdict
Except for the camera, the phone makes us happy in terms of specs and performance. But given that, the camera of Mi Note 3- a phone in the same segment, recently scored better than those of iPhone 7 and Google Pixel. It might turn out to be a deal-breaker.
This is exactly what makes the phone buying decision complex. If seen in isolation, Flipkart Billion Capture+ with all its high-end features and specs looks like a great deal at Rs. 10,999 but when we take the entire smartphone market into account, this Flipkart device is just an addition to the over-saturated smartphone market.