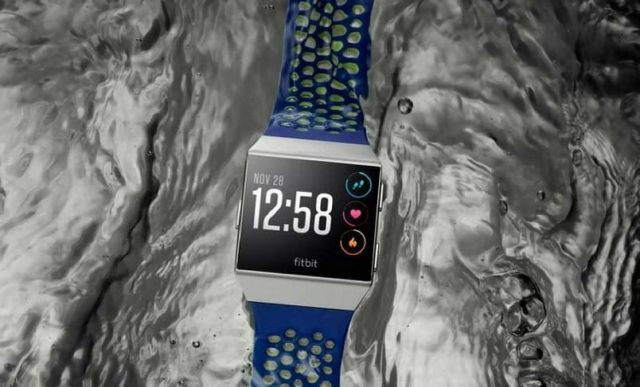 Fitbit- the undoubted leader of fitness tracking domain, is now foraying into smartwatch segment with its latest launch. After years of work and months of delays, Ionic smartwatch is now finally out in the market. Let's see how well it stacks up.
Design
Sporting aerospace-grade aluminum in a unibody design, the rectangular dial houses a brilliant screen of size 1.42-inch, 348 x 250 mm and looks elegant while still retaining the sturdy feel. The metallic gray strap resonates with the classic Fitbit design and uses a peg-and-hole system for closure. However, if you wish to flaunt your own personal style statement, you can purchase additional straps of different colors or opt for the classic perforated leather.
Internals
This is where the immense efforts put in by the company truly begin to appear, with the most prominent being its own OS. The device runs on FitbitOS and has 4GB of internal memory, which is ample to handle all tasks smoothly.
On the sensor end, the Ionic has packed a plethora of them including GPS, heart rate monitor, SpO2 blood oxygen monitor and NFC being the most prominent.
Features of Fitbit Ionic
To put it simply, the smartwatch does everything that is expected of it and beyond. As starters, you can track your workout figures , sleeping patterns and receive push notifications regarding almost every app. The NFC enables you to make contactless payments through your watch, given you first setup the payment methods in the corresponding app. Another welcome feature is to let you play your favorite music by connecting Bluetooth headsets.
Though the new platform puts a limit on the number of apps you can access initially, it comes pre-installed with most of the common features like alarm, weather, timer among others to get you going, while the app ecosystem develops.
Overall, with a price tag of $300, Ionic gratify every expectation of a Fitbit enthusiast  and will definitely prove to be worth every penny.