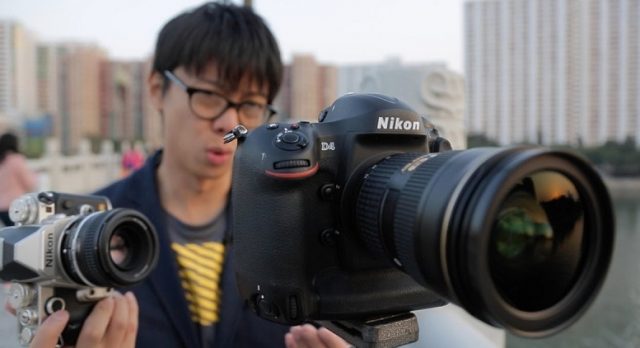 Until few years ago, DSLRs were the holy grail of professional photography. But after Olympus introduced a mirrorless camera in 2009, the ground has been consistently shifting ever since. And though arguably there is still no clear winner yet, both of them pack their own set of benefits that suit different priorities of different users. Depending on your expectations from your next camera, your choice can shift.
So, let's take a look at the factors that may influence such decision:
Size
Nobody likes a big, bulky camera and for that reason, mirrorless cameras are often preferred. They are small, compact in size. However, if you take into account the size of external lenses (which remains same for both), DSLRs also stack up pretty well.
Options
There isn't much that a camera can do on its own, if not supplemented with powerful external lenses. And since DSLR cameras have been in the market for a very long time, most of the companies including Nikon, Canon, Sony among others have an extensive catalog of its lenses. However, despite being a new entrant, mirrorless camera has managed to quickly create an ecosystem of external lenses, just not as rich as DSLRs though.
Video
Traditionally, DSLRs have been used to capture professional videos, a segment that is now challenged and gained by mirrorless cameras. The capability of capturing 4K videos and a vast array of support accessories that it can easily employ are the main reasons professional videographers are moving towards mirrorless cameras.
Price
Now, this is a tricky one. Since DSLRs are more mature, they offer reasonably good features in low-range . The mirrorless cameras, however, lack many features like viewfinders in that segment and unleash their full potential only when you go for a higher price range.
So, if you are primarily a photography enthusiast, who intend to capture pictures across a wide range of environments and lighting conditions, and aren't willing to burn a hole in your pocket, go for DSLR.
See: Top 5 DSLR Cameras under 30000 in India 2018
However, if you regularly capture videos and have decent money to spare, mirrorless cameras will be a better investment.