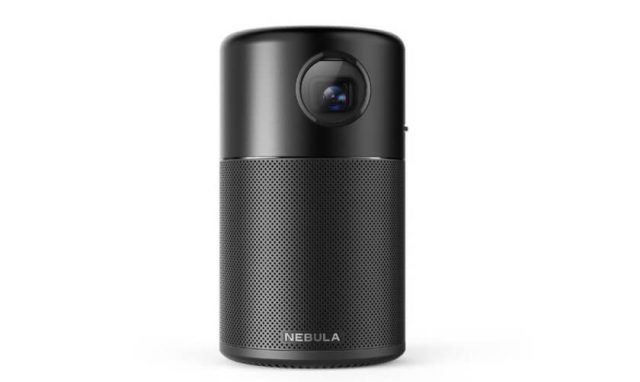 Bluetooth speakers are latest trending piece of tech in the consumer electronics. From Amazon leading the pack to Google and Apple with other traditional players like JBL and Bose, it is tough to find a company that doesn't offer one of these speakers. And now there is a new addition to the list- Anker. Known for its quality, low-cost accessories like chargers, cables, etc., you may have heard about the company before, possibly even used some of its products.
Given that the market is already crowded with tech giants and audio veterans, Anker is taking a different, innovative approach to distance itself from the crowd- it's not offering just a portable speaker but a portable projector-cum-speaker with in-built battery under Nebula brand.
Aptly named Nebula Capsule, the device is sleek cylindrical in shape- roughly the size of a Coke can- that houses a super-portable projector and has in-built speaker at the bottom. Given the compact size and dual-feature, the device makes a pretty handy gadget to have when on the move or even for home.
The projector
Though quite compact in size, the Capsule is capable of extending an image up to impressive 100-inches in diameter, with 100 ANSI lumens of brightness. While you shouldn't expect professional-grade projection quality, the 854×480 resolution does deliver satisfactory results, especially when you consider the high portability. The device also comes with its own app store with apps including Netflix, Hulu, Amazon Prime, to let you catch up on your favorite shows when on-road or when you are just lazing around your backyard.
The speaker
Like the projector, there is nothing outstanding about the speaker but it simply does what you'd expect from it- deliver loud and clear audio to accompany your movies. Yes, it won't beat the quality of your 5.1 home theater but then it isn't meant to. What it can, is easily replace any your Bluetooth speaker in terms of sound and portability.
Connectivity and backup
The device, running on Android 7.1 has built-in Wi-Fi to access the app store- which is the easiest way to access content. Furthermore, it has an USB OTG input to read media from USB drives- only FAT32 format. Then there is also the HDMI port for you to connect all kinds of other devices. But, if you do not like fudging with the on-device buttons, it additionally comes with an IR remote control and a dedicated app to access all the functionalities.
If you are using it to watch videos, you can expect the battery to last for around 4 hours. For audio however, the device promises an impressive battery backup of 30 hours.
Final remarks
While having a projector is still a kind of a cliche, Bluetooth speakers are common gadget that everyone has. And when you get such a hybrid device at $349 that offers decent performance of both, we'd definitely say it's worth a consideration.