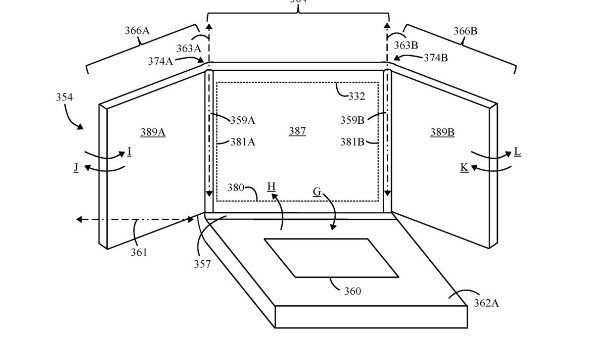 If you have seen Westworld, there is no way you missed those smartphones that unfold into a tablet. What makes them even more intriguing is the fact that while much of technology portrayed seems too futuristic, that foldable gadget seems within reach of our current tech abilities. In fact, from what we have heard about Galaxy X, we are almost certainly halfway through. Now a new report about Lenovo suggests that we may be even closer to creating multi-screen foldable devices than earlier expected.
World Intellectual Property Organization recently published a set of documents that confirmed it has awarded Chinese tech giant Lenovo a patent for a laptop with tri-fold display. What's more interesting is that the patent was filed way back in 2016, which means it must have gone past the stage of concept and prototyping by now and a market debut is expected very soon. As the Lenovo puts it, they are aiming to create a laptop having "flexible display with multiple viewing regions." Simply put a display that unfolds into two or displays- particularly useful for trades, presentations, local multiplayer games, among others.
See More: Lenovo Unveils 2 Fitness Bands and a Smart Body Fat Scale in India
There is more- the patent also mentions smartphones and tablets as other possible use cases of this technology. Though it doesn't explicitly mention the displays to be touchscreen (which goes conventionally), it does mention the slots for camera and microphone on each screen- clearly indicating they can be used just as easily for hand-held devices.
As innovative as it may sound, Lenovo is still trailing behind others in the race to bring foldable screens to the market. Razar too showcased a laptop with three foldable screens at the CES last year but the design wasn't quite as convenient for mass adoption and thus never got an official release. On the smartphone front, Samsung is said to leading the charge with its much-rumored Galaxy X, which we might see this year at its 10th anniversary of Galaxy-series (just as we saw iPhone X at the 10th anniversary). Huawei is another tech juggernaut that is rumored to be working on its own foldable displays with a commercial launch expected under a year.
Related: Lenovo Mirage Solo and Mirage Camera- the VR Headset and VR Streaming Camera Now on Sale
Overall, with such large companies pouring their resources into creating and perfecting this technology, it is almost certain that such devices will soon step out of science fiction into the real world.
Image courtesy: gizbot.com