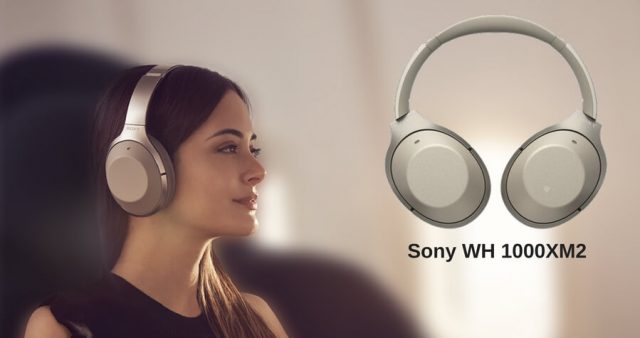 Ever since the Walkman days, Sony has been one of the few companies that has consistently come up with top-notch sound gear and is admired by audiophiles of all tastes. Last year too, its MDR-1000X noise cancellation wireless headset was one of the most highly rated headphones in the premium segment that competed against the flagships of Bose, Beats and other Audio makers.
Now with WH 1000XM2, Sony upped the ante by upgrading the already fantastic headphone with many new useful features that easily make it one of the best headphones you find on the market. Even with a price tag of $350, its worth every penny you spare.
Design
Available in beige and black color variants, the headphones are sturdily built and have a minimalist feel with very few buttons- fewer than its predecessor MDX-1000X. This, of course, suggests that it works on touch controls where you touch and swipe the earpads for actions like play, pause, next track, receive and disconnect calls, among others. The battery isn't user replaceable and charged by a standard USB, not the type-C increasingly getting common on these devices.
Features
Though there are many, some of which we have mentioned here, let's first get over the two most important ones for any headphone of this class:
Sound Quality
Sony, it seems, hasn't much changed the quality of these headphones from the earlier MDX-1000X, which is a good news because they sound incredible. Of course, there is no benchmark to tell if the sound quality of any device is perfect because everyone has their own taste and with millions of possible tunes, some will play out better than others. With WH 1000XM2, of the sound is balanced and if you aren't satisfied, there is a powerful equalizer in the companion app for you to make elaborate tweaks.
Noise cancellation
MDX-1000X already had one of the finest noise cancellations and is now further upgraded with ambient sound control, surround and sound position control, and atmospheric pressure optimizing- unique to this gadget, for a truly immersive experience. It is capable of filtering out a wide range of frequencies and the best part- you have the liberty to choose. For instance, if you are using them in crowded or noisy places like stations or supermarkets, you can use the optimizer to block all the surrounding noise yet you will be able to hear the announcements. Similarly, you can set any level of ambient noise you want to hear depending on your environment and how alert you want to be.
Further, if you want to have a quick chat with someone around you, you don't have to take out these headphones, but can simply put a hand on the earpad and whatever playing will be paused. After you are done, take off your hands and the music will resume.
The battery life too has seen a considerable progress, lasting for around 30 hours on the wireless use and 40 hours when wired to a device.
Overall, there is nothing in these headphones that we can call bad and if you are going to buy a premium headset, Sony WH 1000XM2 is definitely worth a serious consideration.