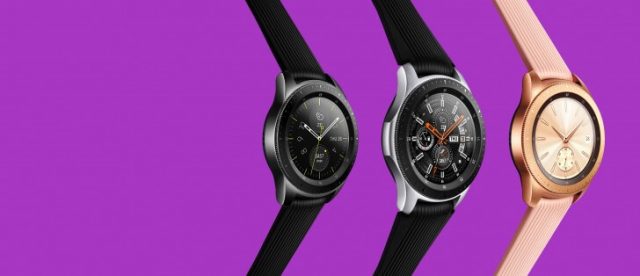 Accenting next level fitness, Samsung manifests its latest Galaxy's Tizen OS-based watch that comes in 42 mm and 46 mm sizes and lasts for days on a single charge.
While the 42 mm version looks flashier and geared for females and comes in Midnight Black and Rose Gold colors. The 46mm one comes in Black.
Going by the "Gear" branding for years with Gear S, Gear S2, and Gear S3 in series, it has eventually rebranded to "Galaxy". The Gear S series of smart-watches were all precisely different from each other in terms of design and variations in the model. Samsung's Gear S, Gear S2 and Gear S3 have recently dominated the market while the users were used to witness Fitbit, Garmin, and Apple which dominated the smartwatch market since years.
To be launched on August 24th, Samsung's Galaxy watches start at $329.99 for 42mm Bluetooth and $349.99 for 48 mm Bluetooth version.  LTE equipped models' pricing will be based on carriers. These are being offered for $375 (42 mm) and $400 (46mm).
Infused with GPS, HR meter, step counter, 3G, Wi-Fi, notifications, voice, hands-free controls, 4 GB internal memory and a long-lasting battery life – these come with all digital well-being and sleep tracking features.
Samsung has always ushered its controlling gaze in the smartphone market. There is no magic trick that makes their smart-watches intelligent. The latest Galaxy watches are still the logical continuation of the Gear S3. Midnight Black, Rose Gold, and Silver are the three casing colors and multiple varieties of bands to choose from that come along with Galaxy series.
The circular bezel rotates to navigate through the Tizen interface on the Samsung Galaxy Watch. 46 mm version has 472 mAh batteries while 42 mm version has a built-in 270 mAh battery. This comes with an assurance and a sort of disclaimer that Samsung will last for several years as compared to other phones.
It comes with both Bluetooth and LTE models featuring GPS tracking and 4 GB of embedded storage but with different RAM's. The LTE model has 1.5 GB of RAM while the Bluetooth model has around 768 MB.
This Tizen-powered Galaxy watch will come with more than 60 thousand watch faces. This watch is IP68 water resistant with an additional 5ATM pressure rating and it also complies with the vague MIL-STD-810G standard. It comes with a 1.3-inch (46mm) or 1.2-inch (42mm) with Gorilla Glass DX+ on top. It works in the dual way of tracking fitness as well as physical health like sleep patterns etc.
It will be launched in India on 24th August, in Korea on August 31st followed by other markets in September.