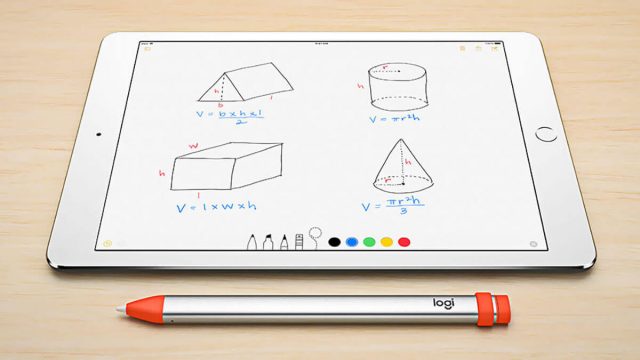 Apple just concluded its Education Event for 2018 of which, the biggest announcement was a $299 affordable iPad for students- a $30 drop from the $329 price tag for everyone else. And while we can't tell if those $30 are enough to bring it into the "affordable" category, there is one notable update that makes it better suited for students- the support for Apple Pen, which by the way, normally retails for $99 ($89 for students).
But there is a better option. The event also featured a new stylus for iPad- Logitech Crayon. It is based on the same Apple Pencil technology for palm-rejection, tilt support, and sub-pixel accuracy- all of which work perfectly well, except for the pressure sensitivity- which we will get back to in a moment. Having a flat body to better rest on a classroom desk, it comes with 8 hours of battery life and has a lightning port to conveniently charge with the same cable used for iPad.
Another notable change is that the stylus doesn't pair via Bluetooth (thus losing that pressure sensitivity capability) but has a button for that purpose. Press it for 2 seconds to pair it with any iPad- making it very useful for teachers as well as students in a typical classroom environment. If all that isn't enough, here is the best part- it costs only $49.
But for all the geeks out there who are well past being students, there is a bad news. The Logitech Crayon won't be available in general markets but will only be sold through education channels.