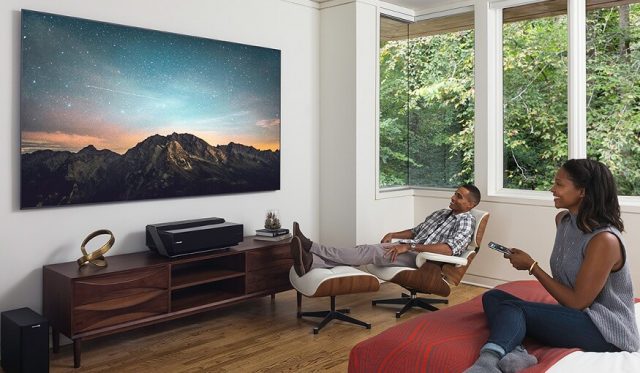 Consider requesting on-demand services from a nearby plumber to beautician to mechanic to laptops which have gone slimmer, sleeker, stylish and more powerful than ever. Technology evolution is everywhere.
And now there is this smart 4k 100-inch TV, which is slated to be a projector with speakers that mount on your wall to deliver awesomeness. All done through lasers. Yes, it is a laser-powered projector with smart TV capabilities.
Hisense partnered with Screen Innovations to create such a product that uses movie theatre technology to deliver you crisp and bright images regardless of the light quality in your room. It is fitted with Harman Kardon speakers that provide surround sound with absolutely zero distortion.
The 4K laser TV features a built-in TV tuner and a short-throw projector. Out of which the former enables you to access content over the Internet without an external source while the latter is responsible for projecting the picture to the anti-reflective screen. The 3,000 lumens laser light is what is projected to the screen for bright and crisp display. The 110W Harman Kardon audio system has two speakers on each side while there is a separate wireless subwoofer for surround sound. In addition to this, apps like Netflix, Amazon Video and YouTube can be accessed by the users.
The company claims it to have 20,000 hours of life, which sounds astonishing from the word go. No wonder it will be up for grab at a whopping price tag of $9,999.
The jaw-dropping price is due to the laser technology that gets everything rolling once the "heart" of the TV gets connected to the display and the peripherals are plugged in correctly. You are required to place the short throw projector inches away from the screen and start enjoying its awesomeness instantly.
With such a high price tag, it is evident that it is certainly not a budget-friendly product. For that matter, consider the features it carries which most of the TVs available on the market don't. it is pricey but with an edge over competitors. And if the price isn't the concerning factor for you then you can expect it to be shipped sometime near the end of November. It is available for purchase through retail outlets and through company's official website.